Flatscreen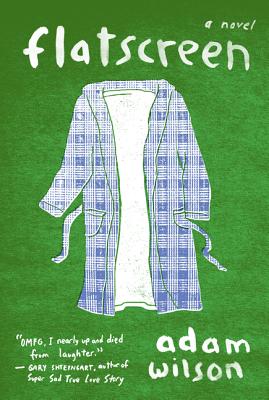 Flatscreen
Harper Perennial, Paperback, 9780062090331, 330pp.
Publication Date: February 21, 2012
* Individual store prices may vary.
Buy at Local Store
Enter your zip code below to purchase from an indie close to you.
or
Not Currently Available for Direct Purchase
Description
"OMFG, I nearly up and died from laughter when I read Flatscreen. This is the novel that every young turk will be reading on their way to a job they hate and are in fact too smart for." --Gary Shteyngart, author of Super Sad True Love Story

Indie-lit star and Faster Times editor Adam Wilson delivers the gleefully absurd, effortlessly heartwarming story of one young man's struggle to shake off the listless, sexless, stoned mantle of suburban teenage life and become something better. Fortunately (maybe) for Eli, his apathetic quest finds a catalyzing agent in one Mr. Seymour J. Kahn, a paraplegic sex addict and two-bit silver screen star who initiates a mad decent into debasement and (of course) YouTube stardom--a transformation from which there will be no going back.

Praise For Flatscreen…
"…immensely satisfying … Wilson has created a thoroughly lovable slacker, part hilarious, part poignant."
-New Yorker

"Comic novelist Adam Wilson makes his swaggering debut in Flatscreen."
-Vanity Fair

"Eli's narration in Flatscreen is darkly funny…"
-Entertainment Weekly

"Wilson's prose is original and arresting … he approaches, in his loftier moments, the tortured grace of George Saunders. This is Cheever on Xanax, or maybe lithium, but the voice is still there; sardonic, hilarious, and very much of our time. Wilson is a writer to watch."
-Daily Beast

"Five things we emphatically endorse this month … a laugh-out-loud literary debut …"
-Details

"If you smashed The Catcher in the Rye into Jesus' Son, you might have something quite close to Flatscreen, a narrative of wayward youth for our beguiled new century on the brink of a discovery we might not welcome."
-BookForum

"A fine debut from Wilson."
-New York Post

"Wilson gives us something depressingly hilarious and undeniably real....Low-level angst is still angst, and Wilson captures it perfectly."
-Time Out New York

''…hilarious and edgy…"
-Baltimore Sun

"Perverse, subversive, and hilariously outrageous, the book delivers memorable characters, a rollicking plot, and a new voice that comes across as anything but flat."
-Barnes and Noble Review

"Wilson expertly crafts explosively hilarious scenes ranging from a Viagra/Oxycontin/cocaine-driven meltdown during a high school football game to the complete destruction of what might have been a reasonably pleasant Thanksgiving dinner with family and friends."
-Forward

"Wilson's sharp, heartrending prose is captivating and comically laced, and an ultimately satisfying read."
-Jewish Book Council

"Wilson pulls you in with smart, self-deprecating comedy, and you never see the sting that's coming. Through the seemingly-familiar prism of a disaffected young man wandering through his Massachusetts hometown, Wilson examines questions of class, intimacy, and our relationship to the media that surrounds us every day."
-L Magazine

"Sure, it's another chubby stoner loser protagonist who is forced to turn into a real person when he gets irritating real-world problems dumped on his lap, but Adam Wilson does it with special aplomb."
-Flavorwire

"An auspicious debut that promises, in Wilson, a standout addition to a new generation of writers."
-Booklist (starred review)

"Rollicking…Comedy and pathos abound in Seymour's absurdist world, and in Eli's fantasies of a better life that come in the form of hilariously familiar cinematic scenarios in which, for instance, the screwup becomes the star chef. Fans of Jack Pendarvis and Sam Lipsyte will enjoy Wilson's fresh, fantastical perspective…"
-Publishers Weekly

"A frequently funny subversion of the coming-of-age story…the voice is strong and the characters indelible…"
-Kirkus Reviews

"Flatscreen is a bleakly funny and totally outrageous debut from an exciting new writer. Adam Wilson has written the slacker novel to end all slacker novels."
-Tom Perrotta

"OMFG, I nearly up and died from laughter when I read Flatscreen. This is the novel that every young turk will be reading on their way to a job they hate and are in fact too smart for."
-Gary Shteyngart

"Adam Wilson delivers rapid fire prose that is distinctively intelligent, hilarious, artful, and perverse. While never failing to entertain, Flatscreen stealthily exposes the psychic abyss that haunts every fit of laughter. A dark jewel of a book."
-Heidi Julavits

"Flatscreen is the sort of novel we've heard nobody is able to write anymore: erudite and hilarious, raunchy and topical, and flat-out fun. Nicholson Baker meets Barthleme with a dash of Nabokov….[B]uy this altogether magical book."
-Darin Strauss

"Adam Wilson struts into that dark destination of post-high-school misery and emerges with a story full of energy and hilarity and emotion. What a great read!"
-Deb Olin Unferth

"Adam Wilson is a gutsy, funny, and often beautiful writer, and Flatscreen is one of the most hilarious and commanding debuts I've read in a long time."
-Sam Lipsyte

"[Wilson's] prose is relentless, and his world view is on fire. Flatscreen is a wickedly funny, absurdly engaging debut. I'd recommend it for fans of Sam Lipsyte and anyone looking for an unconventional coming-of-age story."
-Jami Attenberg