Postcards from Cookie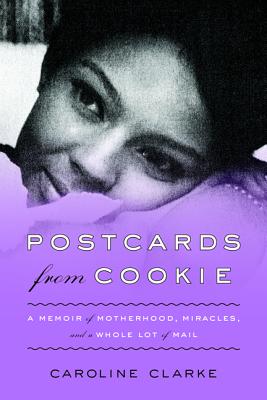 Postcards from Cookie
A Memoir of Motherhood, Miracles, and a Whole Lot of Mail
Harper, Hardcover, 9780062103178, 320pp.
Publication Date: April 15, 2014
* Individual store prices may vary.
Buy at Local Store
Enter your zip code below to purchase from an indie close to you.
or
Buy Here
Description
"There are moments in life that you envision. Winning the lottery. Meeting the love of your life. Cradling your newborn child for the first time. And, if you're adopted, discovering your birth parents. I had occasionally dared to imagine this moment. But I'd never imagined it would be like this."
Award-winning journalist Caroline Clarke was born in an era when adoptions were shameful and secret and sealed. Her story begins with a happy childhood in the Bronx, as the only child of educators, both with strong ties to their large West Indian families. She never had any desire to know her birth parents until her thirties when some health questions led her to contact Spence-Chapin Family Services.
The adoption agency's response sparked a series of stunning discoveries. Caroline knew her biological family and had so for more than twenty years. Her birth mother, nicknamed "Cookie," was the eldest sister of one of her dearest college friends; thus, Caroline's girlfriend was actually her aunt. Moreover, the family was a prominent one, storied in old Hollywood and known throughout the world for not just one but two generations of musical greatness, including the famous singer Natalie Cole and her iconic father, Nat King Cole, whose music had actually filled Caroline's life as she was growing up. Cookie was his first child.
And so Caroline's story begins again. Drawing on details provided by the agency and on her own investigative skills, she embarks on a life-changing relationship with Cookie that stretches from coast to coast, forged through e-mails, phone calls, and hundreds of postcards. The constancy, volume, and intimacy of their steady correspondence fills the days and distance between them, even as the two remain respectful of Caroline's connection with her devoted parents.
Through messages squeezed onto three-inch open-faced squares, they share confidences, take risks, unite their families, and ultimately build a bond like no other.
Postcards from Cookie is a story about family. It's about loss, reconciliation, and w one woman's acceptance of the secrets and lies she discovers about the people who have most shaped her life. An uplifting modern-day fairytale, this extraordinary story just happens to be true.
About the Author
Caroline Clarke has spent most of her career at the media company Black Enterprise, where throughout the years she has held several key positions. She has a bachelor's degree in English from Smith College and a master's degree from Columbia University Graduate School of Journalism. A passionate advocate for adoption, she lives in New York with her family.