French Kids Eat Everything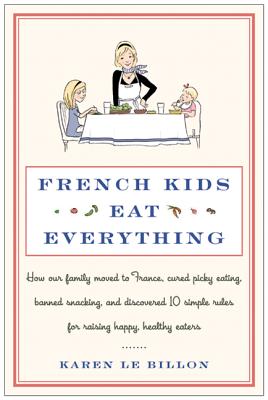 French Kids Eat Everything
How Our Family Moved to France, Cured Picky Eating, Banned Snacking, and Discovered 10 Simple Rules for Raising Happy,
William Morrow & Company, Hardcover, 9780062103291, 305pp.
Publication Date: April 3, 2012
* Individual store prices may vary.
Not Currently Available for Direct Purchase
or
Shop Local
Enter your zip code below to purchase from an indie close to you.
Description
Moving her young family to her husband's hometown in northern France, Karen Le Billon is prepared for some cultural adjustment but is surprised by the food education she and her family (at first unwillingly) receive. In contrast to her daughters, French children feed themselves neatly and happily eating everything from beets to broccoli, salad to spinach, mussels to muesli. The family's food habits soon come under scrutiny, as Karen is lectured for slipping her fussing toddler a snack "a recipe for obesity " and forbidden from packing her older daughter a lunch in lieu of the elaborate school meal.
The family soon begins to see the wisdom in the "food rules" that help the French foster healthy eating habits and good manners from the rigid "no snacking" rule to commonsense food routines that we used to share but have somehow forgotten. Soon, the family cures picky eating and learns to love trying new foods. But the real challenge comes when they move back to North America where their commitment to "eating French" is put to the test. The result is a family food revolution with surprising but happy results which suggest we need to dramatically rethink the way we feed children, at home and at school.
About the Author
Karen Billon is the author of French Kids Eat Everything, a memoir about her family s move to France that offers inspirational lessons for North American parents desperate to end mealtime battles. It has been translated into eight languages and published in eleven countries. Le Billon is a professor at the University of British Columbia and was named one of Canada s Top 40 Under 40 in 2011. A Rhodes Scholar with a PhD from Oxford University, she is married to a Frenchman and is the mother of two young girls. Her family divides its time between Canada and France.
Praise For French Kids Eat Everything…
"It takes a brave couple to move two picky–eater kids into a French small town and convert them to foodie omnivores. We have much to learn from European food traditions, and the contrast between French and North American school lunches is a striking example. A must–read for teachers and parents."
-Marion Nestle, Professor of Nutrition, Food Studies, and Public Health at New York University and author of What to Eat

"Humorous as well as instructive, this culinary adventure will change the lives of parents and children alike. . . . Karen Le Billon and her children learn that it's okay to feel hungry between meals, turn to mindful eating, and learn the importance of enjoying one's food."
-Patricia Wells, author of The Provence Cookbook

"This book is not only about how to teach children (and yourself) to eat well and happily for life, it's a book about how to help build and maintain the foundations of any civilized society. I loved it. Essential reading, whether you have children or not."
-Laura Calder, author of Dinner Chez Moi and host of French Food at Home

"A wonderful—and important—book. One family's topsy-turvy culinary transformation becomes an in-depth exploration of the habits that have kept French kids loving food (and eating spinach) for centuries."
-Elizabeth Bard, author of Lunch in Paris

"A fascinating and valuable read."
-Lynne Rossetto Kasper

"A breezy but practical volume for hurried parents looking to keep their kids well-fed. . . . [The] tone is straightforward, generous, and gentle. That Le Billon concludes with a small collection of kid-friendly recipes makes this foodie manifesto all the more accessible."
-Publishers Weekly

"Le Billon . . . strategically identified questions she faced while living abroad: Why were French kids tidier eaters? Why did they sit quietly at restaurants? Why did her daughter's teacher suggest she see a therapist when she wanted to pack her school lunch?"
-BonAppetit.com