Born to Rise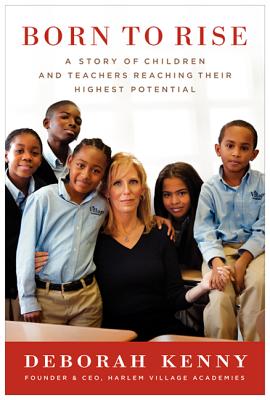 Born to Rise
A Story of Children and Teachers Reaching Their Highest Potential
HarperTorch, Hardcover, 9780062106209, 243pp.
Publication Date: June 5, 2012
* Individual store prices may vary.
Buy Now
or
Shop Local
Enter your zip code below to purchase from an indie close to you.
Description
Deborah Kenny was a young mother of three small children seeking to make sense of her life amid the despair of her husband's untimely death when she decided to devote herself to radically reinventing public education. Born to Rise recounts a journey that led Kenny to risk her life savings to open schools in Harlem while proving that all children, regardless of socioeconomic circumstances, can learn at high levels. Students enter Harlem Village Academies several years behind grade level, but in just a few years they are transformed, ranking among the highest in the nationwith 99 percent of eighth graders meeting proficiency standards in math, science, and social studies.
How do they do it?
For the first time, Kenny shares the groundbreaking strategy that took ten years to develop. She reveals the secret to creating a powerful workplace culture that attracts the most talented people and brings out their passion and highest performancea culture that produces stunning student achievement and teachers who regularly use words like magical to describe the workplace environment.
Born to Rise is the moving and strikingly candid account of Kenny's deeply personal dream: to pursue social justice for our nation's most vulnerable children. Part memoir, part manifesto, it is a hopeful and practical exposition of what it takes to transform schools and create organizations where the staff lights up with entrepreneurial drive. It is a must-read for anyone who cares about children and the future of this country, as well as for leaders who want to motivate and inspire fierce dedication in their employees.
About the Author
Deborah Kenny is founder and CEO of Harlem Village Academies, a network of public charter schools. She is widely regarded as one of the most influential educational entrepreneurs in the country and is regularly featured in national television and print media. Kenny holds a Ph.D. from Columbia University in comparative international education and a B.A. Magna Cum Laude from the University of Pennsylvania. She lives in New York City.
Praise For Born to Rise…
"Leaders who want to light an entrepreneurial fire under every employee must read this book."
-Jack Welch

"Deborah's journey is a gift: she teaches children to love learning"
-Bill Cosby

"Deborah Kenny's inspiring story holds powerful lessons for parents, teachers, administrators, and elected officials across the country."
-Mayor Michael Bloomberg

"Our country needs more schools like Harlem Village Academies."
-Arne Duncan, U.S. Secretary of Education

"Deborah has created something extraordinary at Harlem Village Academies. You feel a warmth and an intellectual energy but most of all there's a passion for learning like I have never before seen at a school."
-Hugh Jackman

"One woman's tragedy turns into triumph for hundreds of Harlem schoolchildren in Kenny's personal and professional memoir… the anecdotes of successful teachers (Kenny's "rock stars") at work and students whose lives were truly turned around by her work prove persuasive and uplifting."
-Publishers Weekly

"Deborah's passion and integrity are inspirational. This important story is a must-read."
-John Legend

"This memoir of a young widow's quest to transform urban education by establishing the groundbreaking Harlem Village Academies will inspire readers everywhere."
-O, the Oprah Magazine

"Parents and principals trying to understand what makes successful schools work ought to read Born to Rise."
-New York Times

Born to Rise is about Deborah Kenny's ability to see greatness in every child and transform entire communities. Her journey is a passionate one and gives me goose bumps."
-Jason Mraz