Scorpions for Breakfast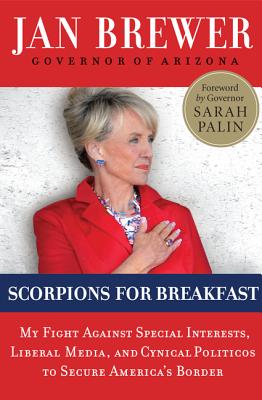 Scorpions for Breakfast
My Fight Against Special Interests, Liberal Media, and Cynical Politicos to Secure America's Border
Broadside Books, Hardcover, 9780062106391, 228pp.
Publication Date: November 1, 2011
* Individual store prices may vary.
Buy Now
or
Shop Local
Enter your zip code below to purchase from an indie close to you.
Description
Sometime after dark on March 27, 2010, Arizona rancher Robert Krentz was found dead next to his four-wheeler on the grounds of his ranch on the Arizona-Mexico border. Krentz and his dog, Blue, had been missing since that morning. They were last heard from when he radioed his brother to say that hed found an illegal alien on the property and was going to offer him assistance. The man Krentz encountered that day shot and killed him and his dog, without warning, before escaping to Mexico.
Its difficult to overstate the impact of Krentzs death, which turned the issue of Arizonas unsecured bordera crisis that the federal government had repeatedly ignoredinto a national concern. As Arizona sheriff Larry Dever said in his testimony before the Senate Homeland Security Committee, We cannot sit by while our citizens are terrorized, robbed, and murdered by ruthless and desperate people who enter our country illegally. This momentum helped pass SB 1070, a bill that authorizes local law enforcement under certain conditions to question persons reasonably suspected of being illegal aliens, which Governor Jan Brewer and the state legislature had been working on for months. With the passage of this controversial bill, the state of Arizona became ground zero in the impassioned debate over illegal immigration. The Democrats and the media went into overdrive, denouncing the state and its governor as racists and Nazis.
Governor Brewer, a lifelong Arizona resident with deep ties to the community, was first elected to the Arizona House of Representatives in 1982, and hasnt lost an election since. As a state official, she watched with increasing dismay as illegal immigration exploded across Arizonas border, and noticed the devastating effect it was having on the state. Causing an escalation in violence, an influx of drugs, and prisons and hospitals to fill to overflowing, this problem was not only wreaking havoc on the moral fabric of the community but placing an even greater strain on Arizonas beleaguered health, educational, and social welfare networks. Growing frustrated with the failure of the federal government to respond to her pleas for assistance, Governor Brewer led the state to action. Scorpions for Breakfast is Brewers commonsense account of her fight to secure our nations border in the face of persistent federal inaction. Her book is vital reading for all Americans interested in the real change that can happen when local leaders take the initiative to preserve our country and our laws.
About the Author
Jan Brewer became Arizona s twenty-second governor in January 2009, upon the resignation of then-Governor Janet Napolitano, inheriting one of the worst fiscal crises in the country for any state. Born to a close-knit family during World War II, Governor Brewer aggressively confronts the trials of life and government with conservative common sense. Governor Brewer is now serving her second term, after winning a convincing 2010 election victory.
Few if any elected officials in Arizona have a broader range of productive experience in public service than Governor Jan Brewer. She was first elected to public office in 1982 to the Arizona House of Representatives and later to the State Senate. She also served on the Maricopa County Board of Supervisors and was elected twice as Arizona s secretary of state. A tough leader, Governor Brewer has always fought for her fellow citizens during her twenty-nine years of public service.
Governor Brewer and her husband, John, live in Glendale, Arizona, where they raised their three sons.
Sarah Palin is the former governor of Alaska, the youngest and first woman elected to the office; the first woman Republican vice-presidential candidate in American history; and the author of the number one New York Times bestsellers Going Rogue and America by Heart. She was named one of Time magazine's "100 Most Influential People" in 2010, hosted TLC's Sarah Palin's Alaska, and is a Fox News contributor. The mother of five children and grandmother of two, she lives with her husband, Todd, in Wasilla, Alaska.