The Confession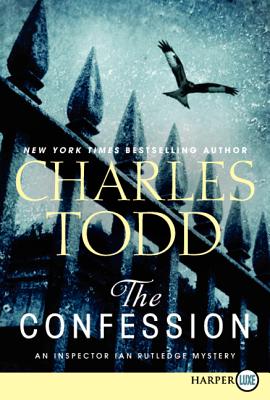 The Confession
HarperLuxe, Paperback, Large Print, 9780062106995, 503pp.
Publication Date: January 3, 2012
* Individual store prices may vary.
Buy at Local Store
Enter your zip code below to purchase from an indie close to you.
or
Not Currently Available for Direct Purchase
Description
Declaring he needs to clear his conscience, a dying man walks into Scotland Yard and confesses that he killed his cousin five years ago during the Great War. When Inspector Ian Rutledge presses for details, the man evades his questions, revealing only that he hails from a village east of London. With little information and no body to open an official inquiry, Rutledge begins to look into the case on his own.
Fewer than two weeks later, the alleged killer's body is found floating in the Thames, a bullet in the back of his head. Searching for answers, Rutledge discovers that the dead man was not who he claimed to be. What was his real name and who put a bullet in his head? Were the confession and his own death related? Or was there something else in the victim's past that led to his murder?
Praise For The Confession…
"There's both a pattern and a purpose to the superb historical mysteries produced by mother-and-son writing partners known as Charles Todd."
-New York Times Book Review on The Confession

"Todd's excellent 14th mystery featuring Insp. Ian Rutledge offers an intriguing setup."
-Publishers Weekly (starred review) on The Confession

"Todd serves up plenty of period detail and plot twists, but the real attraction here is Rutledge, a shrewd, dedicated detective grappling with the demons of his past."
-Booklist on The Confession

"Todd's masterful storytelling skills shine."
-Romantic Times on The Confession

"As with any good mystery, the tension ramps up as the story progresses, pulling more and more characters into the fray, weaving three murders flawlessly into a tight tale. Mr. Todd's characterization is his strength."
-New York Journal of Books on The Confession

"Another excellent Inspector Ian Rutledge mystery....You follow a twisting road when you read this book. You won't soon forget your trip to Furnham and the people who may not be who they seem to be."
-Suspense Magazine on The Confession

"Todd once and for all establishes the shell-shocked Rutledge as the genre's most complex and fascinating detective."
-Entertainment Weekly, on A LONELY DEATH (Grade: A-)

"Todd invests this absorbing fiction with creative storytelling (including intriguing subplots), memorable characters and graceful, seemingly effortless prose….This is fiction that moves, entertains, and as always, underscores life's victories over death."
-Richmond Times-Dispatch on A Lonely Death

"Another engaging entry in a fine series."
-Booklist on A Lonely Death

"A strong entry in a strong series."
-Charlotte Observer on A Lonely Death

"[The authors'] subtle prose and profound empathy for all their characters enhance a suspenseful and twisty plot."
-Publishers Weekly on A Lonely Death

"Todd's intriguing revenge tale will keep the reader turning the pages, but the main draw remains Rutledge, the relentless inspector haunted by the voice of a Scotsman he executed on the battlefield for disobeying an order. Highly recommended for all aficionados of British postwar historical mysteries."
-Library Journal on A Lonely Death