The Cottage at Glass Beach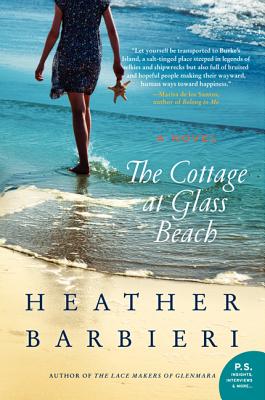 The Cottage at Glass Beach
Harper Perennial, Paperback, 9780062107978, 302pp.
Publication Date: May 7, 2013
* Individual store prices may vary.
Buy at Local Store
Enter your zip code below to purchase from an indie close to you.
or
Buy Here
Description
Heather Barbieri follows her acclaimed Gaelic-tinged drama The Lace Makers of Glenmara with the resonant tale of a woman who, in the wake of scandal, flees to a remote Maine island to reconnect with her pastand to come to terms with the childhood tragedy that has haunted her for a lifetime. Set on the rugged New England coast, Barbieris The Cottage at Glass Beach strikes the perfect balance between high lit and mainstream womens fiction, infusing a potent and unforgettable love story with unforgettable characters that will remain with you long after the final chapter. Richly evocative, Barbieris narrative of intimacy, struggle, and redemption will call out to readers of Joanne Harris, Alice Hoffman, and other modern masters of drama.
About the Author
The author of two previous novels, The Lace Makers of Glenmara and Snow in July, Heather Barbieri has won international prizes for her short fiction. She lives in Seattle with her family.
Praise For The Cottage at Glass Beach…
"Where Barbieri shines is in her depiction of the microcosm of the island and in the strong links between the generations. Nora discover that 'Everything is connected. The geography of the island, of the soul,' and Barbieri makes that connection real."
-Melinda Bargreen, Seattle Times

"A must read for fans of Sarah Addison Allen's Garden Spells."
-Tara Quinn, Cleveland Plain Dealer

"Barbieri's mix of fairy tale and family drama in a picturesque seaside resort makes her third novel a terrific beach read."
-Library Journal

"Part seaside fairytale, part exploration of real-world tensions....Let yourself be transported to Burke's Island, a salt-tinged place steeped in legends of selkies and shipwrecks, but also full of bruised and hopeful people making their wayward, human ways toward happiness."
-Marisa de los Santos, author of Falling Together and Belong to Me

"Heather Barbieri's The Cottage at Glass Beach is a moving, heartfelt story told with vivid description. Open the book and listen—you'll hear the waves crashing onto the shore."
-Sarah Jio, author of The Bungalow and The Violets of March

"Strikes the perfect balance between high lit and mainstream women's fiction, infusing a potent and unforgettable love story with unforgettable characters that will remain with you long after the final chapter....[Barbieri's narrative] will call out to readers of Joanne Harris, Alice Hoffman, and other modern masters of drama."
-Bookreporter.com

"The Cottage at Glass Beach, an enchanting novel about mothers and daughters on an isolated island, is a romantic, delicious read. Barbieri's beautiful writing and beguiling world view revel in the realities and the mysteries of the sea and of life itself."
-Nancy Thayer, New York Times bestselling author of Heat Wave

"Barbieri does such a wonderful job setting up the beauty and mystery of the island and its rich Gaelic roots that it is not a stretch to ask the reader to imagine that the place is also magical. A wonderful, subtle, transporting story."
-Susan Maguire, Booklist, starred review

"In the enchanting world of Maine's Burke's Island, fanciful stories - of captured selkies becoming dutiful wives and tears cried in the sea beckoning lovers to shore - are gracefully woven into modern reality."
-Publishers Weekly

"Threads of magical realism throughout the book are quite appealing, and the seaside setting is enchanting."
-Melissa Parcel, Romantic Times Book Review

"Barbieri's deft writing style is charmingly wry yet evocative, with details and descriptions both telling and vivid. . . . . A sweet summertime yarn [that] . . . provides a lovely, leisurely escape to the bucolic charms of the Emerald Isle."
-Karen Campbell, Boston Globe on The Lace Makers of Glenmara

"The Lace Makers of Glenmara is richly peopled and beguilingly charming but what ultimately makes it so moving is Heather Barbieri's deep understanding that no life is immune from sorrow and difficulty. I read this wonderful novel with enormous pleasure."
-Margot Livesey, author of The House on Fortune Street on The Lace Makers of Glenmara

"Ms. Barbieri's writerly sense of whimsy and retrospection implies that anyone can work through adversity to happiness - if only the volition is present."
-Nancy Carty Lepri, New York Journal of Books

"The Lace Makers of Glenmara is a charming, moving story, written with a delicate touch."
-Joanne Harris, author of Chocolat and The Girl with No Shadow, on The Lace Makers of Glenmara

"Reminiscent of Maeve Binchy's stories of romance and family in tight-knit Irish communities, The Cottage at Glass Beach is full of warmth and sympathy."
-Katie Schneider, The Oregonian