An Uncommon Education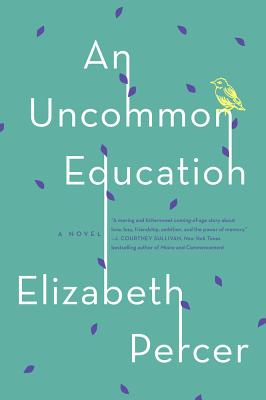 An Uncommon Education
Harper Perennial, Paperback, 9780062110978, 342pp.
Publication Date: January 8, 2013
* Individual store prices may vary.
Buy at Local Store
Enter your zip code below to purchase from an indie close to you.
or
Not Currently Available for Direct Purchase
Description
For fans of Prep, Dead Poets Society, and Special Topics in Calamity Physics comes an elegant and remarkably insightful coming-of-age debut, in which a young woman's serendipitous discovery of her college's underground Shakespeare Society leads to an unforgettable series of transformations. When Naomi finds herself among "the Shakes" at Wellesley, she finally lets herself embrace the passionate inner self she's always kept locked away. But when a sudden scandal unfolds, she will be forced to learn the limits of the relationships that have sustained her. An intimate and enthralling narrative, Elizabeth Percer's debut novel An Uncommon Education marks the emergence of a stunning new literary talent.
Praise For An Uncommon Education…
"Enticing and shyly perceptive."
-New York Times Book Review

"Think Dead Poet's Society or The Secret History."
-New York Post

"A fine novel and a young writer to watch."
-Hudson Valley News

"[Naomi demonstrates] how to make the kinds of choices that eventually lead to an uncommon but joy-filled life."
-Oprah.com

"Three-time Pushcart nominee Percer offers an uncommonly good debut that's finely detailed and emotionally gripping while avoiding every pitfall of the standard coming-of-age tale. Highly recommended."
-Library Journal (starred review)

"Poet Percer's fiction debut is an intimate portrait of an intelligent, tender girl with a deep wish to protect those she loves."
-Publishers Weekly

"A moving and bittersweet coming-of-age story about love, loss, friendship, ambition, and the power of memory. This complex and satisfying tale introduces a cast of quirky, hilarious, intellectual young women, struggling to find their place in the world."
-J. Courtney Sullivan, New York Times bestselling author of Maine and Commencement

"Bonds of love, family and friendship, sometimes damaged or beyond repair, are nevertheless celebrated in an intense debut by a noted poet. . . . [A] thoughtful coming-of-age tale that hovers observantly on the edge of melancholia."
-Kirkus Reviews

"A wistful debut novel by noted Bay Area poet."
-San Jose Mercury News

"Percer's lyrical novel has much to offer."
-Booklist

"Eloquent, haunting and exquisitely written, Percer's stunning debut finds surprising beauty in the broken places of our lives. Here, winning can't mute pain, but love endures despite the odds, and the education of a remarkable young woman is as uncommonly original as this novel itself."
-Caroline Leavitt, New York Times bestselling author of Pictures of You

"Haunting and poignant, Elizabeth Percer's coming-of-age novel portrays a bright young woman confronting her limits as she watches those she loves deal with illness and betrayal. Each turn of this elegiac debut revealed stark truths that left me both moved and astonished."
-Lauren Belfer, New York Times bestselling author of A Fierce Radiance and City of Light

"It's impossible not to care about Naomi Feinstein . . . An Uncommon Education beautifully [brings] Naomi to the Bard (the play's the thing), but also gives the reader something much rarer--a world, and a life, that seem real."
-Nicole Mones, author of Lost in Translation and The Last Chinese Chef

"Elizabeth Percer relates the life story of Naomi Feinstein with beautifully scripted, lush prose drawing in the reader and providing an unobstructed view deep into the hearts of her characters. . . . Rich in history, steeped in family tradition, and full of emotion--a lesson in practiced elegance."
-New York Journal of Books