You Can't Lie to Me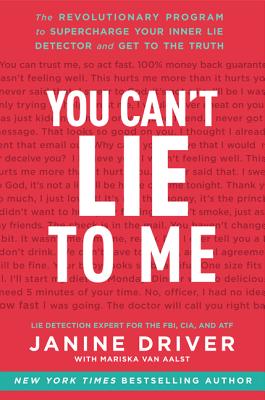 You Can't Lie to Me
The Revolutionary Program to Supercharge Your Inner Lie Detector and Get to the Truth
HarperOne, Paperback, 9780062112545, 274pp.
Publication Date: April 29, 2014
* Individual store prices may vary.
Buy at Local Store
Enter your zip code below to purchase from an indie close to you.
or
Buy Here
Description
In You Can't Lie to Me, learn how to perfect your inner lie detector ("BS Barometer") and ban liars from your life so you can feel more confident and create stronger, more trusting relationships. Lie detection expert Janine Driver delivers a step-by-step, foolproof program to: Outsmart disloyal coworkers--and beat them to the plum promotions Protect your children from predators and guard aging loved ones--and their nest eggs--from unscrupulous con artists Hire honest employees whose resumes and experience you can trust Say yes to honest partners and avoid lying cheaters Get your boss's attention with these little tips Save thousands of dollars each year using rich people's #1 trick.