Whiplash River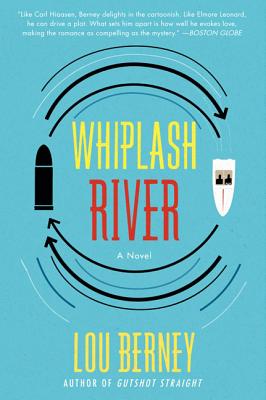 Whiplash River
William Morrow & Company, Paperback, 9780062115287, 307pp.
Publication Date: July 10, 2012
* Individual store prices may vary.
Buy at Local Store
Enter your zip code below to purchase from an indie close to you.
or
Buy Here
Description
Having left his life of crime behind, former getaway driver Charles "Shake" Bouchon has finally realized the dream of owning his own restaurant in Belize. Unfortunately, to do so he's had to go deep in debt to a murderous local drug lord named Baby Jesus. And when Shake thwarts an attempted hit on an elderly customer named Quinn, things go from bad to worse.
Next thing Shake knows, his restaurant's gone up in flames and he's on the run from Baby Jesus, two freelance assassins, and a beautiful but ferocious FBI agent. Out of options, Shake has to turn to the mysterious Quinn for help. Suddenly Shake's up to his neck in a dangerous score that he'll never pull off unless he can convince an even more dangerous ex-girlfriend to join him.
Praise For Whiplash River…
"Berney takes his rightful place as heir to Elmore Leonard with this witty and nimble comedic thriller . . . the exotic locales are vibrant, the supporting cast larger than life, and the plot hums along without a wasted page."
-Publishers Weekly (starred review)

"Berney's plot makes as many sharp turns as San Francisco's famously curvy Lombard Street. His characters . . . are brilliantly drawn . . . the dialogue is crisp and often funny . . . Whiplash River should be a contender for this year's [Booklist's Best Crime Novels] list."
-Booklist (starred review)

"In this entertaining sequel to Gutshot Straight, Berney has a great time tweaking the familiar . . . featuring a number of great set pieces, snappy dialogue, and colorful characters, the plot hums along like a mosquito cloud over a puddle."
-Publishers Weekly, staff pick for Best Summer Books 2012

"Berney blends equal parts action and humor, topped with the right amount of romance, for a summer read that's a firecracker . . . fun, clever and well-written fiction with protagonists you can really root for."
-Oklahoma Gazette

"A non-stop comedy-thriller-romance that Elmore Leonard would proudly keep on his nightstand . . . Shake gets entangled with a mysterious older character, his former girlfriend Gina, a persistent FBI agent and a gunman you'll root for -- all with dialogue that ricochets faster than the bullets."
-Cleveland Plain Dealer

"Some writers can make me laugh and some can make me gasp, but Lou Berney can make me do both at the same time, and then get me all misty, too. Whiplash River belongs at the very top of the bestseller list."
-Timothy Hallinan, author of The Queen of Patpong

"Slick, sleek, and wildly entertaining, Whiplash River is pure pleasure. I'm a snob for prose, and these words sing, managing to be at once lean and evocative, confident and wry. Lou Berney is that kind of annoyingly skilled stylist who makes everything look easy."
-Marcus Sakey, author of The Two Deaths of Daniel Hayes and host of the Travel Channel's Hidden City

"A delirious caper in the spirit of Hiaasen and Leonard."
-The Barnes & Noble Review

"You don't have to have read GUTSHOT STRAIGHT to thoroughly enjoy WHIPLASH RIVER, but you'll want to, simply to savor more of Berney's work and characters while you're waiting for what hopefully will be next year's installment."
-Bookreporter.com

"Whiplash River is nonstop action, filled with humor, plot twists and even romance . . a hilarious crime caper spanning the globe."
-Shelf Awareness

"Wonderfully flawed characters . . . Berney keeps you guessing until the very last chapter. Fun, exciting and deadly, Whiplash River is not to be missed."
-SheKnows.com

"If you like crime fiction, do yourself a favor and read Lou Berney's thrilling, funny and whipsmart novel Whiplash River. Then, if you haven't read its predecessor, Gutshot Straight, Berney's debut novel, read that one too."
-Virginian Pilot

"This witty, comedic tale is filled with romance, mystery and intrigue. A good caper with well-developed characters, Whiplash River is a winding adventure."
-Express Milwaukee

"This is pure breezy reading — a fun little crime novel that will pass the time as you lounge out on beaches or by pools this summer."
-Bookgasm

"Fast, furious, with characters that spike higher than the scatterbrain action, Berney has a hit on his hands with Whiplash River. Ferociously funny, endearingly romantic, annoyingly buzzed, slapstick and chaotic."
-The Review Broads blog

"Whiplash River recalls the best of the off-the-wall crime fiction impresarios - Elmore Leonard, Carl Hiaasen, James W. Hall, Robert Ferrigno, Tim Dorsey - while establishing its own unique orbit in the noir universe."
-Iron Mountain Daily News