The Uninvited Guests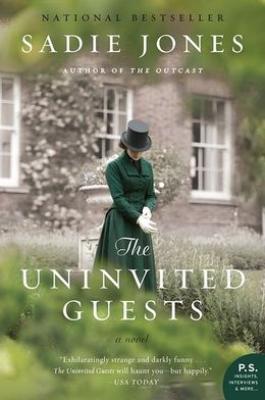 The Uninvited Guests
Harper Perennial, Paperback, 9780062116512, 262pp.
Publication Date: January 8, 2013
* Individual store prices may vary.
Buy at Local Store
Enter your zip code below to purchase from an indie close to you.
or
Buy Here
Description
A grand old manor house deep in the English countryside will open its doors to reveal the story of an unexpectedly dramatic day in the life of one eccentric, rather dysfunctional, and entirely unforgettable family. Set in the early years of the twentieth century, award-winning author Sadie Jones's The Uninvited Guests is, in the words of Jacqueline Winspear, the New York Times bestselling author of the Maisie Dobbs mysteries A Lesson in Secrets and Elegy for Eddie, a sinister tragi-comedy of errors, in which the dark underbelly of human nature is revealed in true Shakespearean fashion.
About the Author
SADIE JONES is the author of three previous novels: The Outcast, winner of the Costa First Novel Award in the UK and a finalist for the Orange Prize for Fiction and the Los Angeles Times Book Prize Art Seidenbaum Award for First Fiction; Small Wars, a tale of love, war, and honor, which was published to critical praise on both sides of the Atlantic; and The Uninvited Guests, the best-selling and highly acclaimed drama of dark surprises beloved of writers as diverse as Ann Patchett and Jacqueline Winspear. Sadie Jones lives in London.
Praise For The Uninvited Guests…
"A comedy of manners that turns downright surreal…Jones's effervescent writing keeps the course steady-even as her characters shed their civilized veneers."
-Ellen Shapiro, People Four Star Review

"Entertaining…Jones is a writer of admirable narrative energy…with a painfully accurate, almost Stoppardian ear for dialogue and a delightful streak of cruelty that flirts with…the gothic."
-Lev Grossman, Time Magazine

"Vividly atmospheric…niftily deceptive…a story of shattered snobbery, transformation of character and in the end a surprising and eerily beautiful portrait of compassion…A sublimely clever book."
-Mary Pols, San Francisco Chronicle

"Delicious…comparisons with Downton Abbey will be both inevitable and fair."
-Wall Street Journal

"…THE UNINVITED GUESTS…defied my expectations. I saw none of it coming. I read it in one breathless sitting, and finished wanting to give it to everyone I know."
-Maile Meloy, Nationally Bestselling Author of BOTH WAYS IS THE ONLY WAY I WANT IT

"What a delicious read! Like something written by a wicked Jane Austen,…I was captivated by its madcap nature and then, unprepared for the strange fruit that the story became."
-Sarah Blake, New York Times Bestselling Author of THE POSTMISTRESS

"A brilliant novel…At once a shimmering comedy of manners and disturbing commentary on class…so well-written, so intricately plotted, that every page delivers some new astonishment."
-Ann Patchett, New York Times Bestselling Author of STATE OF WONDER

"What opens as an amusing Edwardian country house tale soon becomes a sinister tragi-comedy of errors…in true Shakespearean fashion. Sadie Jones is a most talented and imaginative storyteller."
-Jacqueline Winspear, New York Times Bestselling Author of ELEGY FOR EDDIE

"A remarkable dark comedy...Jones's characters are delightfully eccentric, the wit delightfully droll, and the prose simply delightful. But for all its charm, this is a serious book…"
-Publishers Weekly (starred review)

"A delightful, eerie novel…Jones expertly balances the whimsical and the strange, building things to a climax of abandon, terror and restitution…Engrossing, enjoyable."
-Philip Womack, Telegraph

"Excellent characterization…a plot sprinkled with hints of secrets to be revealed…a page-turning read that blurs the edges of the country house mystery."
-Library Journal (starred review)

"Jones' clever prose and bright tone heighten her characters and setting…she adroitly draws the layers of character that are exposed as shameful secrets come to light."
-Atlantic Monthly

"Enthralling…An English countryside setting, an ever-twisting plot, and gorgeously precise writing add up to one delightful novel."
-Martha Stewart Whole Living Magazine

"Exhilaratingly strange and darkly funny…veers off in a wildly surprising direction, and the way it plays out is delightful, sexy, moving-even profound…Will haunt you-but happily."
-USA Today

"Delightful and unexpected…These well-imagined characters serve to raise stakes the reader cares about. They move beyond archetypes, becoming something unexpectedly rich and engaging."
-Robin Vivimos, Denver Post

"'Downton Abbey' takes a turn for the supernatural in Sadie Jones's stylishly eccentric comedy of manners THE UNINVITED GUESTS...Anglophiles who admire a biting sense of humor and a tinge of the Gothic, pull up a chair."
-Christian Science Monitor

"Ms. Jones's comedy of manners, which takes place over a single evening in 1912, gleefully exposes the family members' snobbery… The author can't resist harassing the Torringtons with the menace in the next room…"
-New York Times

"…a delicious romp to read…Jones' novel is as tightly constructed as one of those elaborate corsets that the Crawley women squeeze into to sashay around the drawing rooms at Downton."
-Maureen Corrigan, NPR

"An enchanted new novel…[with] the sly, subversive dexterity of a Mozart opera or Shakespeare's 'A Midsummer Night's Dream.'"
-Washington Post

"The author's command of period archness tips its hat to a pantheon of social satirists: Luis Buñuel in cahoots with Oscar Wilde and Jane Austen. Jones's caustic takedown of 1-percenter exceptionalism arrives like a divine gift to occupying party poopers everywhere."
-New York Times Book Review