Archon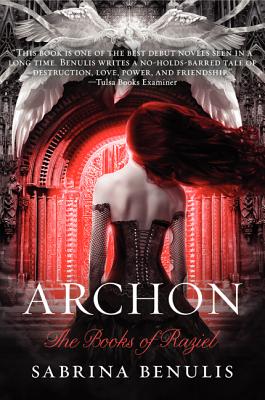 Archon
The Books of Raziel
Voyager, Paperback, 9780062116901, 400pp.
Publication Date: November 6, 2012
* Individual store prices may vary.
Buy at Local Store
Enter your zip code below to purchase from an indie close to you.
or
Buy Here
Description
Angels and demons do battle for a girl possessed by the spirit of a powerful, dead angel in this fabulous paranormal debut by Sabrina Benulis. Archon is the first of the Books of Raziel, a truly fantastic and very hip new take on heaven's warriors that readers of the angelic novels of Danielle Trussoni, Lauren Kate, Becca Fitzpatrick, and Alexandra Adornetto are sure to adore. Archon is new wave urban fantasy, a tale of the supernatural that brilliantly blends passion, obsession, horror, and suspense in a way that will appeal to dark fantasy fans and paranormal romance readers equally. Sabrina Benulis's angels are creepy, sexy, and totally awesome--and, like Anne Rice's amoral, ambiguous, and addicting vampires, they will seduce and terrify you at the same time.

Praise For Archon…
"These angels can be vindictive and cruel, more human than you might expect and oozing supernatural abilities…. If you think you have the guts to take on this novel pick it up."
-Boulder Examiner

"A dark, bold story."
-Lexington Literature Examiner

"With the first installment in her trilogy, Benulis uses lush descriptions and larger than life characters to tell the story of a battle between Heaven and Hell… I will definitely be on the lookout for the next installment in her book of Raziel series."
-Suspense Magazine

"Angela is someone I would want to be friends with, someone I would want to have in my corner. She's out of her mind, a little, but honestly – who isn't?"
-Fictional Distraction

"Forget what you think you know and allow the book to show you a new vision of angels and demons. It's a terrifying one, but extremely interesting."
-Sci-Fi Fan Letter

"Even when I wasn't reading, I felt a little like I had one foot in the book and the other in reality."
-Literary Feline

"This plot is original in every way, and it resembles nothing that I have ever read before."
-The Wilkes Beacon

"In this fascinating, well written first novel, Sabrina Benulis has created a world where it's hard to tell the demons and angels apart. Be prepared to read this one in one sitting because it's one of those rare novels that grabs you and doesn't let go."
-The Baryon Review