The Devil Colony Low Price CD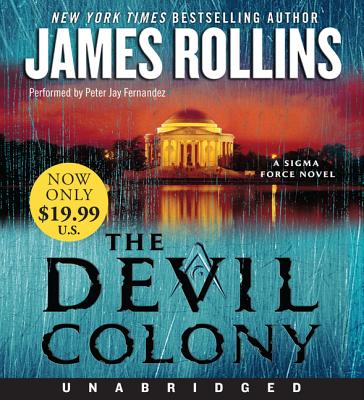 The Devil Colony Low Price CD
A SIGMA Force Novel
HarperAudio, Compact Disc, 9780062119155
Publication Date: March 27, 2012
* Individual store prices may vary.
Buy at Local Store
Enter your zip code below to purchase from an indie close to you.
or
Buy Here
Description
Deep in the Rocky Mountains, a gruesome discovery hundreds of mummified bodies stir international attention and fervent controversy. Despite doubts to the bodies origins, the local Native American Heritage Commission lays claim to the prehistoric remains, along with the strange artifacts found in the same cavern: gold plates inscribed with an unfathomable script.
During a riot at the dig site, an anthropologist dies horribly. All evidence points to a radical group of Native Americans, including one agitator who escapes with a vital clue to the murder and calls on the one person who might help her uncle, Painter Crowe, director of Sigma Force. To protect his niece and uncover the truth, Painter will ignite a war across the nation's most powerful intelligence agencies. Yet, an even greater threat looms as events in the Rocky Mountains have set in motion a geological meltdown that threatens the entire western half of the U.S.
From the volcanic peaks of Iceland to the blistering deserts of the American Southwest, from the gold vaults of Fort Knox to the bubbling geysers of Yellowstone, Painter Crowe joins forces with commander Gray Pierce to penetrate the shadowy heart of a dark cabal, one that has been manipulating American history since the founding of the thirteen colonies. But can he discover the truth before it destroys all he holds dear?
About the Author
James Rollins is the New York Times bestselling author of thrillers translated into forty languages.
Peter Jay Fernandez is an accomplished audiobook narrator who has also appeared on television, film, and stage. His appearances include roles in "Law & Order", "Law & Order: Criminal Intent", and the musical "Thunder Knocking on the Door". He lives in Brockton, Massachusetts, with his wife, Denise.
James Rollins is the New York Times bestseller of thrillers translated into forty languages. His Sigma series has been lauded as one of the "top crowd pleasers" (New York Times) and one of the "hottest summer reads" (People Magazine). Acclaimed for his originality, Rollins unveils unseen worlds, scientific breakthroughs, and historical secrets--and he does it all at breakneck speed.
Rebecca Cantrell's Hannah Vogel mystery novels have won the Bruce Alexander and Macavity awards and been nominated for the Barry and Romantic Times Reviewers Choice awards; her critically-acclaimed novel, iDrakula, was nominated for the APPY award and listed on Booklist's Top 10 Horror Fiction for Youth. She and her husband and son just left Hawaii's sunny shores for adventures in Berlin.