Mossad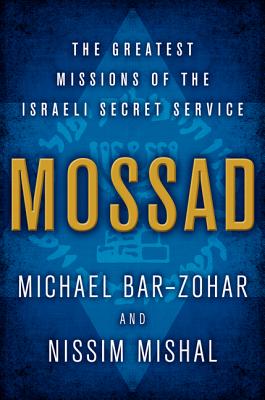 Mossad
The Greatest Missions of the Israeli Secret Service
Ecco Press, Hardcover, 9780062123404, 388pp.
Publication Date: November 2012
* Individual store prices may vary.
Shop Local
Enter your zip code below to find indies closest to you.
Description
The Mossad is widely recognized today as the best intelligence service in the world. It is also the most enigmatic, shrouded in secrecy. Mossad: The Greatest Missions of the Israeli Secret Service unveils the defi ning and most dangerous operations that have shaped Israel and the world at large from the agency's more than sixty-year history, among them: the capture of Adolf Eichmann, the eradication of Black September, the destruction of the Syrian nuclear facility, and the elimination of key Iranian nuclear scientists.
Through intensive research and exclusive interviews with Israeli leaders and Mossad agents, authors Michael Bar-Zohar and Nissim Mishal re-create these missions in riveting detail, vividly bringing to life the heroic operatives who risked everything in the face of unimaginable danger. In the words of Shimon Peres, president of Israel, this gripping, white-knuckle read "tells what should have been known and isn't that Israel's hidden force is as formidable as its recognized physical strength.
About the Author
Michael Bar-Zohar is a writer and public speaker, a former member of the Knesset, and envoy to the Council of Europe. One of Israel's foremost experts on espionage, he was an advisor to General Moshe Dayan, Dr. Bar-Zohar and has served as a professor at Haifa University in Israel and at Emory University in Atlanta, Georgia.

Nissim Mishal is an author and one of the foremost TV personalities in Israel. After graduating with a master's degree in political science, he joined the staff of the Israeli state television and worked as a political reporter, Washington correspondent, and, finally, its director-general.
Praise For Mossad…
"This book tells what should have been known and isn't--that Israel's hidden force is as formidable as its recognized physical strength."
-Shimon Peres, President of Israel

"Two insiders reveal some of the more fantastic episodes in the history of Israeli intelligence operations around the world. A quick and easy read, this book focuses on the operational details and personalities behind the famed Mossad's record of assassination, kidnapping, sabotage, and clandestine surveillance."
-Publishers Weekly