Flight Behavior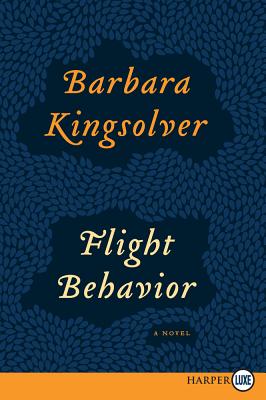 Flight Behavior
HarperLuxe, Paperback, Large Print, 9780062124302, 675pp.
Publication Date: November 6, 2012
* Individual store prices may vary.
Buy at Local Store
Enter your zip code below to purchase from an indie close to you.
or
Buy Here
Description
Dellarobia Turnbow is a restless farm wife who gave up her own plans when she accidentally became pregnant at seventeen. Now, after a decade of domestic disharmony on a failing farm, she has settled for permanent disappointment but seeks momentary escape through an obsessive flirtation with a younger man. She hikes up a mountain road behind her house toward a secret tryst, but instead encounters a shocking sight: a silent, forested valley filled with what looks like a lake of fire. She can only understand it as a cautionary miracle, but it sparks a raft of other explanations from scientists, religious leaders and the media. The bewildering emergency draws rural farmers into unexpected acquaintance with urbane journalists, opportunists, sightseers, and a striking biologist with his own stake in the outcome. As the community lines up to judge the woman and her miracle, Dellarobia confronts her family, her church, her town, and a larger world, in a flight toward truth that could undo all she has ever believed.
About the Author
Barbara Kingsolver's work has been translated into more than twenty languages and has earned a devoted readership at home and abroad. She was awarded the National Humanities Medal, our country's highest honor for service through the arts. She received the 2011 Dayton Literary Peace Prize for the body of her work, and in 2010 won Britain's Orange Prize for The Lacuna. Before she made her living as a writer, Kingsolver earned degrees in biology and worked as a scientist. She now lives with her family on a farm in southern Appalachia.
Praise For Flight Behavior…
"Drawing on both her Appalachian roots and her background in biology, Kingsolver delivers a passionate novel on the effects of global warming."
-Booklist, Starred Review of FLIGHT BEHAVIOR

"With her powerful new novel, Kingsolver delivers literary fiction that conveys an urgent social message… a clarion call about climate change, too lucid and vivid for even skeptics to ignore."
-Publishers Weekly, Starred Review of FLIGHT BEHAVIOR

"…Enthralling…Dellarobia is appealingly complex as a smart, curious, warmhearted woman desperate to-no resisting the metaphor here-trade her cocoon for wings."
-Oprah.com

"A dazzling page-turner"
-Elle

"Kingsolver has written one of the more thoughtful novels about the scientific, financial and psychological intricacies of climate change. And her ability to put these silent, breathtakingly beautiful butterflies at the center of this calamitous and noisy debate is nothing short of brilliant."
-Ron Charles, Washington Post

"Dellarobia is a smart, fierce, messy woman, and one can't help rooting for her to find her wings."
-Entertainment Weekly

"Dellarobia is appealingly complex as a smart, curious, warmhearted woman desperate to-no resisting the metaphor here-trade her cocoon for wings."
-O, the Oprah Magazine

"One of the gifts of a Kingsolver novel is the resplendence of her prose. She takes palpable pleasure in the craft of writing, creating images that stay with the reader long after her story is done…(a) majestic and brave new novel."
-New York Times Book Review

"Kingsolver has constructed a deeply affecting microcosm of a phenomenon that is manifesting in many different tragic ways, in communities and ecosystems all around the globe. This is a fine and complex novel."
-Seattle Times

"So captivating is this grand, suspenseful plot and the many subplots rising and falling beneath it that it takes some time before we realize what this story is really about -- climate change."
-Minneapolis Star Tribune

"Spirituality, a troubled marriage, global warming…Kingsolver's latest is a bold mélange, but it works."
-People

"Kingsolver is a storyteller first and foremost, as sensitive to human interactions and family dynamics as she is to ecological ones."
-NPR

"a delicate symbiosis between the sacred and the scientific in this richly rewarding novel that will both entertain and incite its readers."
-BookPage

"FLIGHT BEHAVIOR is a book worth reading twice? first for the intricacies of character, second for the dense, beautiful language Kingsolver puts on the page. She's a keen observer of the messiness and unexpected beauty of the quotidian."
-Cleveland Plain Dealer

"By the end of FLIGHT BEHAVIOR, it's clear that Kingsolver's passionate voice and her ability to portray the fragility of the natural world, and why we should care about it, are as strong as ever."
-San Francisco Chronicle

"Novelists like Kingsolver have a particular knack for making us empathize with lives that may bear little resemblance to our own…What lifts FLIGHT BEHAVIOR…is not just Kingsolver's nuanced and funny prose; it's Dellarobia's awakening to the possibilities around her."
-Julia Ingalls, Salon

"FLIGHT BEHAVIOR is a terrifically entertaining read about a spirited young woman you'll miss the minute you reach the last page."
-USA Today

"Marvelous…This is fiction rich in empathy, wit and science. Like the butterflies that astonish Feathertown, Kingsolvian gifts are 'fierce and wondrous,' 'colors moving around like fire.'"
-New York Times