Cash Out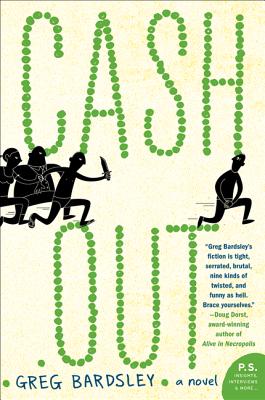 Cash Out
Harper Perennial, Paperback, 9780062127716, 374pp.
Publication Date: October 9, 2012
* Individual store prices may vary.
Buy at Local Store
Enter your zip code below to purchase from an indie close to you.
or
Not Currently Available for Direct Purchase
Description
"Cash Out is one of those novels that begs for more adjectives: relentless, madcap, polished, lean, vivid, warped, original, horrifying and hilarious in equal measure."
--Marcus Sakey, author of The Two Deaths of Daniel Hayes and The Amateur
Imagine a story by Ben Mezrich (The Accidental Billionaires, 21) of staggering financial improprieties infused with Tim Dorsey's (Hurricane Punch, Gator A-Go-Go) zany, over-the-top pure insanity, and you might have something somewhat resembling Cash Out, the rollicking debut novel by Greg Bardsley. This is nonstop, mercilessly hilarious, no-holds-barred fiction for fans of The Hangover and Office Space--an outrageous tall tale that follows one desperate, disgruntled Silicon Valley exec through a his surreal three-day scramble to cash out his stock options and leave behind his hated high-tech job before outrageous villains (and even crazier friends) completely destroy him. Do you like the wildly satirical work of Tom Perrotta, Sam Lipsyte, and Gary Shteyngart? Do the ingenious comic caper novels of Elmore Leonard leave you breathless and exhilarated? Then get ready to Cash Out.

Praise For Cash Out…
"Cash Out is one of those novels that begs for more adjectives: relentless, madcap, polished, lean, vivid, warped, original, horrifying and hilarious in equal measure. It's like the spawn of mad monkey sex between Charlie Huston and Duane Swierczynski. Which is a good thing."
-Marcus Sakey, award-winning author of The Two Deaths of Daniel Hayes and The Amateurs

"A psychotic head-scratcher in the best possible way. Bardsley's story is wild, unpredictable, and totally original."
-Los Angeles Book Review

"A tense, satirical black comedy that will leave you with paper cuts from anticipating what's on the next page and an aching gut from the laughter."
-Frank Bill, author of Crimes in Southern Indiana

"Greg Bardsley's writing walks on the wild side, with street swagger and a switch-blade in the sock. His short stories are an internet sensation, there's style and there's substance and a great big dollop of skill. Utterly unique and head-and-shoulders above his peers."
-Tony Black, author of Truth Lies Bleeding

"Wow and wow again. CASH OUT gets the 3-E merit: Excellent, enthrallingand with a wicked elegance. I loved it."
-Ken Bruen, best-selling author of The Devil [Minotaur] and other books

"A cold heart is beating in [Greg Bardsley's] prose, one that suspects there's nothing much good to say about people. Still…you can say it with a sly wink that lets everyone know we're all in on the same grim joke. Bardsley gives us the wink and delivers the black punchline."
-Charlie Huston, best-selling author of The Mystic Arts of Erasing All Signs of Death and The Shotgun Rule [Ballantine], as well as the Henry Thompson trilogy and the Joe Pitt casebooks

"Bardsley's work will be around a long time. He forces you to remember. … My prediction: As soon as the novels start rolling out, Bardsley will be as big as Palahniuk. But the critics will like him a lot more."
-Anthony Neil Smith, author of Hogdoggin and Yellow Medicine [Bleak House]

"Bardsley's writing always makes me laugh and long for more. His characters are outrageous… yet beneath their antics and quirks are kernels of people we recognize from our everyday lives - or would, before Greg let them run wild. CASH OUT provides a delicious romp… I loved every minute of it."
-Rachel Canon, author of The Anniversary [Random House] Rachel Canon, author of The Anniversary [Random House] Rachel Canon, author of The Anniversary [Random House] Rachel Canon, author of The Anniversary [Random House] Rachel Canon, autho

"Greg Bardley's writing is so good it's criminal. The guy has style. And a wicked imagination. And nobody has more fun with his characters than Mr. Bardsley does."
-Al Riske, author of Precarious and Sabrina's Window [Luminis]

"Greg Bardsley. Remember his name. Mark my words, he's gonna be huge."
-Jedidiah Ayres, Ransom Notes: The Barnes & Noble Mystery Blog

"Irreverent, surreal, utterly original. Bardsley is a genre unto himself."
-Keith Rawson, editor of Crimefactory magazine

"Greg Bardsley is one of the funniest writers, period. Someone once asked me to describe Greg's writing and all I could come up with was it's like being stuffed into a gag bag full of razor blades and getting tossed into the gibbons cage at the zoo."
-Kieran Shea, author of "The Lifeguard Method" [Ellery Queen] and other stories

"Cash Out is a wonderful combination of the bizarre, hysterical, and gruesome. Bardsley is a rising star in the world of crime fiction."
-Mark Richardson, author of "Tattoo Woman" and other stories