Kbl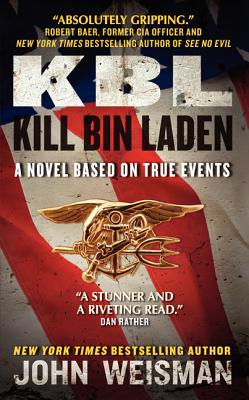 Kbl
Kill Bin Laden: A Novel Based on True Events
Harper, Mass Market Paperbound, 9780062127877, 364pp.
Publication Date: April 24, 2012
* Individual store prices may vary.
Buy at Local Store
Enter your zip code below to purchase from an indie close to you.
or
Not Currently Available for Direct Purchase
Description
Some truths are better told in fiction.
A riveting novel drawn from actual events, KBL: Kill Bin Laden brings to life the drama behind SEAL Team 6's stunning raid that brought about the long-awaited destruction of the 21st century's most ruthless killer. From the political battlefields of Washington, D.C., and the CIA headquarters in Langley, Virginia, to the dusty streets of Peshawar, Lahore, and Abbottabad, Pakistan, John Weisman brilliantly imagines what may well have transpired during the breathtaking hunt, discovery, and execution of Usama Bin Laden.
Filled with unrelenting excitement and real-world intelligence tradecraft, KBL: Kill Bin Laden brings to riveting life the intrigue and suspense of the covert Spec Ops mission that rocked the world.
About the Author
Seven-time New York Times bestselling author John Weisman is one of a select company of authors to have their books on both the Times nonfiction and fiction bestseller lists. He pioneered coverage of Naval Special Warfare when he co-authored the number one New York Times bestseller Rogue Warrior, the story of Richard Marcinko and the creation of SEAL Team 6, and then conceived, created, developed, and wrote eight bestselling Rogue fictional sequels. Pulitzer Prize-winning author Seymour Hersh praised his 2004 novel Jack in the Box as "the insider's insider spy novel." Weisman's CIA short stories were chosen for inclusion in Best American Mystery Stories in 1997 and 2003. His most recent CIA short fiction appears in Agents of Treachery. He reviews books on intelligence and military affairs for the Washington Times, and his analysis has appeared in AFIO's periodical Intelligencer. John Weisman lives sin the Blue Ridge Mountains of Virginia.
Praise For Kbl…
"We will probably never get the full, true account of how Osama bin Laden was found and killed in Pakistan. Mr. Weisman's novelization of the mission is the next best thing."
-New York Times

"Weisman's research is excellent, and he clearly has expert sources. He's adept at explaining the complex structure of the special operations units . . . As a former MI6 agent who's used to reading inaccuracies in thrillers, I was delighted to note that every chapter here feels right."
-Washington Post

"Absolutely gripping. KBL: Kill Bin Laden describes a true story that can only be told in fiction. It also enthrallingly shows how SEALs are the future of warfare in the 21st century."
-Robert Baer, former CIA officer and New York Times bestselling author of See No Evil

"A stunner and a riveting read. KBL is rife with realism and a true-to-life portrayal of hard-core warriors, their ethos and their world."
-Dan Rather

"KBL is an amazing tour de force. This is as close as you will get to the pulse-pounding, incredibly daring mission to find and Kill Bin Laden."
-Joseph Wambaugh

"A down and dirty thriller."
-Kirkus Reviews

"This is a must-read book for anyone who wants to understand the meticulous planning and preparation that must go into carrying out a raid to kill the most wanted terrorist in the world, Usama Bin Laden, and the unselfish dedication that drives our 'special warriors.'"
-ADM James "Ace" Lyons, Jr., Former Commander-in-Chief, U.S. Pacific Fleet

"An extraordinary look inside Special Operations Forces at the team level. Based on three decades of dogged, accurate and mature reporting, Weisman has developed credibility inside the secret community of special ops. This book ties together the strands of detective work, spy craft and commando skills."
-Bing West, author of The Village, The Strongest Tribe and The Wrong War

"Impressively detailed and imagined, Weisman's fictional account of the hunt for al-Qaeda leader Osama bin Laden will resonate . . . in this fast-paced narrative"
-Publishers Weekly

"Mr. Weisman's research is thorough, and there is no shortage of CIA and military lore woven into KBL's pages . . . he brings them all together in a narrative so real that readers will quickly forget that it is fiction."
-New York Journal of Books

"KBL is a riveting and detailed chronology of the events leading up to Bin Laden's death. Readers will wonder if Weisman had insider knowledge of the plans and ongoing access to their implementation."
-Library Journal

"John Weisman has done it again! KBL is the latest of his books that probe beneath the facts of world-changing events to expose the deeper meanings and truths and lay bare the raw passions of people who throw themselves into such situations."
-John Perkins, New York Times bestselling author of Confessions of an Economic Hit Man

"KBL tells the story so well that you keep turning the pages even though you know the ending."
-Washington Independent Review of Books

"John Weisman has written an intriguing tale. Try guessing where fiction ends in KBL and fact takes over."
-Douglas Waller, author of Wild Bill Donovan: The Spymaster Who Created the OSS and Modern American Espionage

"There are only a few authors who are able to climb inside the culture, mindset, and passions of the people who conduct covert and special operations. SOAR reveals why John Weisman is the best in the business in writing about it."
-William S. Cohen, former U.S. secretary of defense, on SOAR

"A good and informative read."
-Washington Times

"KBL: Kill Bin Laden won't be closed until you finish it."
-St. Louis Post-Dispatch

"Whether you call it a novel or a fictional narrative, as Weisman says, 'based on true events,' the story . . . stands as one of the most compelling and interesting for news-minded Americans."
-Dallas Morning News

"With keen insight into both the tactical and political measures at stake in this momentous strike, Weisman has penned an account that, though technically a work of fiction, resonates with credibility."
-Iron Mountain Daily News

"A book worth reading, not to mention adding to the home, school, and public libraries in every town and city in America. If you want to learn how the brave men and women of our special forces and intelligence agencies really do business . . . pick up a copy."
-US Daily Review

"This book is very believable and well-developed with clear and concise details . . . What a reader will take away from this novel is an increased appreciation for the job that intelligence and Special Forces do: their passion, diligence, perseverance, and grit."
-American Thinker

"A great tale about a great mission."
-BlackFive.com