Prague Winter LP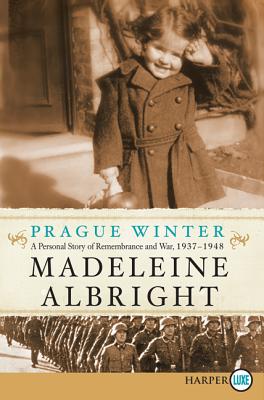 Prague Winter LP
A Personal Story of Remembrance and War, 1937-1948
HarperLuxe, Paperback, Large Print, 9780062128423, 752pp.
Publication Date: May 15, 2012
* Individual store prices may vary.
Buy at Local Store
Enter your zip code below to purchase from an indie close to you.
or
Buy Here
Description
Before she turned twelve, Madeleine Albright's life was shaken by the Nazi invasion of her native Czechoslovakia, the Battle of Britain, the attempted destruction of European Jewry, the Allied victory in World War II, the rise of communism, and the onset of the Cold War.
Drawing on her memory, her parents' written reflections, interviews with contemporaries, and newly-available documents, Albright recounts a tale of these years that is by turns harrowing and inspiring. The book takes readers from the Bohemian capital's thousand-year-old castle to the bomb shelters of London, from the desolate prison ghetto of Terezin to the highest councils of European and American government.
At once a deeply personal memoir and an incisive work of history, Prague Winter serves as a guide to the future through the lessons of the past as seen through the eyes of one of the international community's most respected and fascinating figures.
Praise For Prague Winter LP…
"A gripping account of World War II. . . . In taut prose, Albright weaves a powerful narrative that wraps her family's story into the larger political drama unfolding in Europe."
-The Philadelphia Inquirer

"Albright has supplemented a deeply researched history of World War II-era Czechoslovakia with a moving family narrative."
-The Daily

"Prague Winter is not only a family story-a proud and moving one-but a brilliant and multilayered account of how Czechoslovakia was formed along the most idealistic lines in the aftermath of World War I. An altogether fascinating and inspiring read."
-Michael Korda, The Daily Beast

"Showing us villainy, heroism, and agonizing moral dilemmas, Albright's vivid storytelling and measured analysis bring this tragic era to life."
-Publishers Weekly (starred review)

"A genuinely admirable book. Albright skillfully returns us to some of the darkest years of modern times. Spring eventually came to Prague, but in much of the world it is still winter. The love of democracy fills every one of these instructive and stirring pages."
-Leon Wieseltier

"I was totally blown away by this book. It is a breathtaking combination of the historical and the personal. Albright confronts the brutal realities of the Holocaust and the conflicted moral choices it led to. An unforgettable tale of fascism and communism, courage and realism, families and heartache and love.
-Walter Isaacson

"A remarkable story of adventure and passion, tragedy and courage set against the backdrop of occupied Czechoslovakia and World War II. Albright provides fresh insights into the events that shaped her career and challenges us to think deeply about the moral dilemmas that arise in our own lives."
-Vaclav Havel

"A riveting tale of her family's experience in Europe during World War II [and] a well-wrought political history of the region, told with great authority. . . . More than a memoir, this is a book of facts and action."
-The Los Angeles Times

"A compelling personal exploration of [Albright's] family's Jewish roots as well as an excellent history of Czechoslovakia from 1937 to 1948. . . . Highly informative and insightful. . . . I can't recommend Prague Winter highly enough."
-The Washington Post Book World

"In the crowded field of memoirs written by former secretaries of state, Madeleine Albright's books stand out. . . . Albright is a charming and entertaining storyteller."
-The New York Review of Books

"Albright's book is a sprightly historical narrative of this long decade. . . . Her account of the destruction of inter-war Czechoslovakia, both as a geographical entity and as an idea of democracy, first by the Nazis and then by the Communists, is balanced and vivid."
-The Economist

"A blend of history and memoir that reveals in rich, poignant and often heartbreaking detail a story that had been hidden from her by her own parents. . . . The beating heart of the book is Albright's searing account of her intimate family saga."
-The Jewish Journal

"An extraordinary book. . . . Albright artfully presents a wrenching tale of horror and darkness, but also one in which decent and brave people again and again had their say."
-István Deák, The New Republic