The Emerald Storm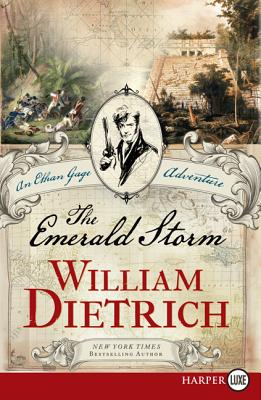 The Emerald Storm
HarperLuxe, Paperback, Large Print, 9780062128430, 493pp.
Publication Date: May 2012
* Individual store prices may vary.
Buy Now
or
Shop Local
Enter your zip code below to purchase from an indie close to you.
Description
In critically acclaimed William Dietrich's new adventure, the action races from a mountain prison in Napoleonic France to the sultry tropics of the Caribbean, with a mysterious and magical Spanish treasure and the first successful slave revolt in history hanging in the balance.
The year is 1803. Swashbuckling, ribald, and irreverent hero Ethan Gage has outsmarted wily enemies and survived dangerous challenges across the globe, from the wilds of the American frontier to the pyramids of Egypt. The raffish hero finds himself in the Caribbean with his wife, Astiza, on a desperate hunt to find the lost treasure of Montezuma a legendary hoard rumored to have been hidden from Cortes's plundering Spanish conquistadors.
Caught between French and rebel slave forces, Gage and Astiza are in a race for gold and glory that will thrust them into the center of a bloody struggle for freedom as they try to rescue their son. And this time, Gage's luck may be running out.
About the Author
William Dietrich is the author of fourteen novels, including six previous Ethan Gage titles Napoleon's Pyramids, The Rosetta Key, The Dakota Cipher, The Barbary Pirates, The Emerald Storm, and The Barbed Crown. Dietrich is also a Pulitzer Prize-winning journalist, historian, and naturalist. A winner of the PNBA Award for Nonfiction, he lives in Washington State.
Praise For The Emerald Storm…
"Rousing good stuff."
-Sacramento Bee

"Entertaining. . . . Dietrich seamlessly blends historical figures such as Napoleon and Toussaint L'Ouverture, the liberator of Haiti, with fictional characters like Gage's nemesis, "renegade secret policeman" Leon Martel, in this amusing swashbuckler."
-Publishers Weekly

"Dietrich seamlessly blends historical fact with fiction. . . . [He] also has a knack for making the world of 1803 come alive."
-Associated Press

"The Emerald Storm is a whirl of adventure, international diplomacy and vivid political commentary. . . . A wonderful romp through a complicated period of history."
-Bellingham Herald