Shaken Not Stirred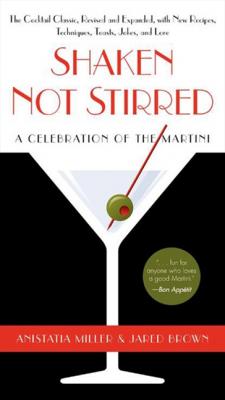 Shaken Not Stirred
A Celebration of the Martini
William Morrow & Company, Paperback, 9780062130266, 224pp.
Publication Date: January 2, 2013
* Individual store prices may vary.
Buy Now
or
Shop Local
Enter your zip code below to purchase from an indie close to you.
Description
This updated edition features recipes from the world's greatest mixologists, including 107 classic gin and vodka Martinis, more than 110 Modern Martinis, and a directory of the world's best Martini lounges
Shaken Not Stirred(r) celebrates the Martini the quintessential cocktail, the crowning jewel of civilized decadence. Historians and mixologists Anistatia Miller and Jared Brown revise their lists of classic Martini recipes and update their roster of modern Martinis from the Espresso Martini to the Fresh Fruit Martini, from Cosmos to MarTEAnis to suit current taste. They also provide eye-opening, never-before-published discoveries in their history of the cocktail in both America and Europe.
Over the past fifteen years the way people think about and drink cocktails, especially Martinis, has been radically transformed. In this new edition, readers can hone their bar skills with tips from some of the world's finest mixologists. They can learn how to stock a topshelf home bar as well as make infusions and special garnishes. Partyplanning advice, fun bits of trivia, a few jokes and anecdotes, plus a directory of the world's best cocktail bars, are the finishing garnish on this modern cocktail classic
About the Author
Anistatia R. Miller and Jared M. Brown are the directors of Mixellany Limited, a drinks consultancy and publisherof books on drinks and spirits. During their twenty-year collaboration, Miller and Brown have written more than thirty books, includingShaken Not Stirred(r): A Celebration of the Martini, Cuban Cocktails, and The Mixellany Guide to Vermouth & Other Aperitifs. Recipients ofthe International Wine & Spirits Competition 2011 Communicatorsof the Year Award, the couple's two-volume masterwork, SpirituousJourney: A History of Drink, won the coveted Gourmand WorldCookbook Award for Best Drink History in the UK in both 2009 and2010. Jared Brown is also the master distiller of Sipsmith, the firstcopper-pot distillery to be licensed in London in more than 189 years.

Brown writes and designs from her home in the San Francisco Bay area.