Bumper Sticker Liberalism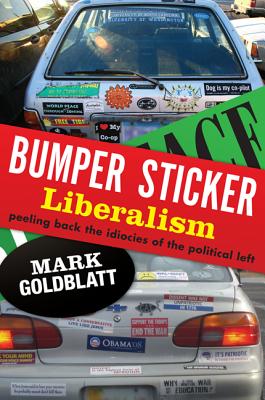 Bumper Sticker Liberalism
Peeling Back the Idiocies of the Political Left
Broadside Books, Paperback, 9780062135117, 208pp.
Publication Date: July 1, 2012
* Individual store prices may vary.
Buy at Local Store
Enter your zip code below to purchase from an indie close to you.
or
Not Currently Available for Direct Purchase
Description
Modern American liberalism is no longer a system of beliefs about the role of government, the conduct of international relations, or the nature of personal responsibility. Rather, it has become a series of bumper stickers—actual bumper stickers that signal mental bumper stickers. They don't make sense individually. They don't make sense in concert. But if you peel them away, one by one, from the foreheads of liberals, there's nothing underneath.
Clever, pithy, often nasty, and altogether unexamined, the liberal bumper sticker is, in fact, the perfect antidote to critical thought. It's an argumentative marker, a gauntlet thrown down from the sanctuary of the driver's seat. You don't have to defend your ideas with your pedal to the metal. Your bumper sticker says, in effect, "This is how I roll."
Insightful and irreverent in just the right way, Bumper Sticker Liberalism takes on, and takes apart, the cozy cognitive knee jerks of actual liberal bumper stickers—on topics ranging from race relations to the nanny state, from global warming to tax policy, from war and peace to Bush Derangement Syndrome.
About the Author
Mark Goldblatt is a widely published columnist, essayist, and philosopher. He is the author of two novels, Africa Speaks and Sloth. He teaches religious history and developmental English at Fashion Institute of Technology of the State University of New York.