The Rosetta Key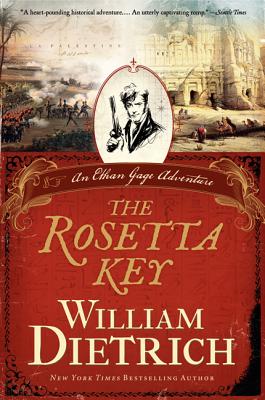 The Rosetta Key
Harper Paperbacks, Paperback, 9780062191571, 368pp.
Publication Date: April 24, 2012
* Individual store prices may vary.
Buy at Local Store
Enter your zip code below to purchase from an indie close to you.
or
Buy Here
Description
The year is 1799. As Bonaparte's army descends upon Israel, intent upon conquest, American adventurer Ethan Gage finds himself embroiled in an ancient mystery in the Holy Land, searching for a legendary Egyptian scroll imbued with awesome powers. The raffish and resourceful Gage must keep the mysterious document from his enemy, Napoleon or, failing that, wrest it from him, even if it means pursuing his vengeful adversary back to France. And the wisdom of his great mentor, Benjamin Franklin, will offer Gage no solace should Bonaparte succeed in unlocking the terrible secrets of the Book of Thoth, and seizing ultimate power.
Praise For The Rosetta Key…
"The Rosetta Key creates a satisfying blend of military and ancient history, adventure and romance."
-Newark Star Ledger

"An electrifying combination of battles, exotic landscapes, and colorful characters who really lived."
-International Thriller Writers Blog

"Exciting and well-written. . . . Dietrich's latest tale is ripe with rich detail of the Holy Land of the period and its disparate peoples. Fascinating historical and fictional characters and good dialog add to the mix. Offering high adventure and good history, it's also great fun."
-Library Journal

"Ethan Gage undergoes further life-threatening adventures in this rollicking sequel. . . . Ever the incorrigible gambler and all-around scamp, Gage makes an irresistible anti-hero. The ending promises more volumes in what one hopes will be a long series."
-Publishers Weekly

"Historical fiction meets thriller here, with plenty to interest fans of both genres. The action is nearly nonstop, the humor is plentiful, and the intrigue is more than enough to keep the pages turning."
-School Library Journal

"The Rosetta Key is a fast-paced thriller that races between the Holy Land and the New World."
-National Examiner

"The prize-winning journalist/novelist . . . brings back the explorer hero from his popular adventure saga Napoleon's Pyramids for a fast-paced sequel in which he continues his globe-trotting search for an Egyptian scroll reported to have magic properties."
-Seattle Post-Intelligencer

"Fast moving. . . . The descriptions of the myriads of cities and landscapes and cultures that Gage encounters are marvelous and filled with color. . . . The Rosetta Key is action packed, reads easily, and is ideal for the big screen."
-Historical Novels Review

"A full-bore thriller, and who better than Dietrich for an all-out romp with seductive characters, alluring plot, and dynamic historical elements?"
-Booklist

"In recent years he turned to writing historical novels, successfully redirecting his knack for summarizing complex historical events quickly in clear, concise and interesting terms. His painstaking research and eye for detail allows him to bring characters and their surroundings vividly to life."
-Anacortes American (WA)

"Does the late George MacDonald Fraser's irresistible anti-hero, Sir Harry Flashman, have some competition? We hope so."
-Sacramento Bee

"For lovers of stirring historical adventure laden with intriguing myste ry and puzzles galore, The Rosetta Key is a terrific thrill ride not to be missed."
-Anacortes Now (WA)

"Sit down, suspend disbelief, and enjoy Dietrich's fabulous romp through history."
-Bookloons.com

"An utterly captivating romp. . . . Dietrich spins a merry magical mystery tour, winningly intricate. . . . It's the history that grabs you, rewritten as a pulse-pounding cliffhanger action flick. . . . Mr. Spielberg! Mr. Lucas! It's your move."
-Seattle Times