Prey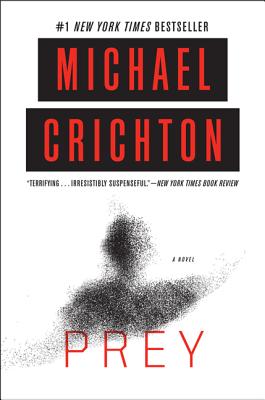 Prey
Harper Paperbacks, Paperback, 9780062227201, 384pp.
Publication Date: February 5, 2013
* Individual store prices may vary.
Buy at Local Store
Enter your zip code below to purchase from an indie close to you.
or
Buy Here
Description
Michael Crichton's Prey is a terrifying page-turner that masterfully combines a heart-pounding thriller with cutting-edge technology.
Deep in the Nevada desert, the Xymos Corporation has built a state-of-the-art fabrication plant, surrounded by miles and miles of nothing but cactus and coyotes. Eight people are trapped. A self-replicating swarm of predatory molecules is rapidly evolving outside the plant. Massed together, the molecules form an intelligent organism that is anything but benign. More powerful by the hour, it has targeted the eight scientists as prey. They must stop the swarm before it is too late...
In Prey, Michael Crichton combines scientific brilliance with relentless pacing to create an electrifying, chilling techno-thriller
Praise For Prey…
"TERRIFYING…IRRESISTIBLY SUSPENSEFUL."
-New York Times Book Review

"INTRICATE PLOTTING AND FLAWLESS PACING…you won't be able to put it down."
-Time magazine

"CRACKLING…MYSTERIOUS…."
-Entertainment Weekly

"Just what his fans expect: A WILD, SCARY RIDE…"
-Detroit Free Press

"Another PAGE-TURNING TRIUMPH"
-Charlotte Observer

"INCREDIBLY SCARY and relentless"
-Minneapolis Star Tribune

"PREY WILL KEEP YOU TURNING PAGES"
-Chattanooga Times

"RELENTLESSLY ENTERTAINING"
-Raleigh News & Observer

"… a harrowing tale of nanoparticles gone beserk."
-USA Today

"A TERRIFYING TALE…combining technological verisimilitude with heart-pounding suspense…"
-The Oregonian (Portland)

"Serious and scary…"
-Washington Post Book World

"This is how to write a thriller …Crichton's latest page-turning triumph."
-Detroit Free Press

"Crichton has proved he knows how to ratchet up the fear factor."
-Denver Post

"…so god-awful scary and relentless, it'll knock your head clear of whatever ails you."
-St. Petersburg Times

"Once again, Crichton has proved to be uncannily timely."
-St. Louis Post-Dispatch

"Crichton is a master storyteller."
-Detroit News

"A cross between Jurassic Park and The Andromeda Strain…."
-Columbus Dispatch

"PREY delivers that expected Crichton charge."
-Seattle Post-Intelligencer

"A terrific novelist…He could make most readers lose sleep all night and call in sick the next day."
-San Francisco Chronicle

"Readers turn to Michael Crichton's novels for entertainment with relentless drive."
-San Antonio Express

"Crichton is a doctor of suspense."
-Des Moines Sunday Register

"Crichton writes superbly…the excitment rises with each page."
-Chicago Tribune

"Crichton's books [are]…hugely entertaining."
-New York Times Book Review

"Crichton delivers."
-USA Today

"He is without peer."
-Chattanooga Times

"One of the great storytellers of our age…What an amazing imagination."
-New York Newsday

"Michael Crichton has written some of America's most fantastic novels."
-Milwaukee Journal Sentinel