American Sniper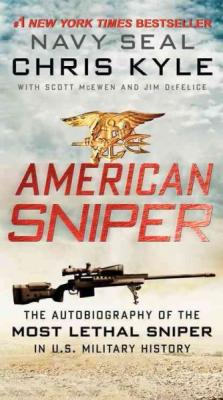 American Sniper
The Autobiography of the Most Lethal Sniper in U.S. Military History
HarperTorch, Mass Market Paperbound, 9780062238863, 434pp.
Publication Date: January 2013
* Individual store prices may vary.
Buy Now
or
Shop Local
Enter your zip code below to purchase from an indie close to you.
Description
NOW A BLOCKBUSTER MOTION PICTURE DIRECTED BY CLINT EASTWOOD NOMINATED FOR SIX ACADEMY AWARDS, INCLUDING BEST PICTURE
He is the deadliest American sniper ever, called "the devil" by the enemies he hunted and "the legend" by his Navy SEAL brothers . . .
From 1999 to 2009, U.S. Navy SEAL Chris Kyle recorded the most career sniper kills in United States military history. The Pentagon has officially confirmed more than 150 of Kyle's kills (the previous American record was 109), but it has declined to verify the astonishing total number for this book. Iraqi insurgents feared him so much they placed a bounty on his head. Kyle earned legendary status among his fellow U.S. warriors, whom he protected with deadly accuracy from rooftops and stealth positions. Gripping and unforgettable, Kyle's masterful account of his extraordinary battlefield experiences ranks as one of the great war memoirs of all time.
About the Author
SEAL Team 3 Chief Chris Kyle (1974-2013) served four combat tours in Operation Iraqi Freedom and elsewhere. For his bravery in battle, he was awarded two Silver Stars, five Bronze Stars with Valor, two Navy and Marine Corps Achievement Medals, and one Navy and Marine Corps Commendation. A native Texan, his spare time was spent helping disabled veterans. Chief Kyle is survived by his wife and their two children.

Scott McEwen is the #1 "New York Times "bestselling coauthor of Chris Kyle s autobiography, "American Sniper, "which was made into the highest grossing war film of all time, directed by Clint Eastwood and starring Bradley Cooper. He is the coauthor, with Thomas Koloniar, of the national bestselling Sniper Elite series: "One-Way Trip, Target America, "and "The Sniper and the Wolf. "A trial attorney in San Diego, California, McEwen works with and provides support for several military charitable organizations, including The Navy SEAL Foundation.

Jim DeFelice is the author of many military thrillers and has frequently collaborated with New York Times bestselling authors Stephen Coonts, Larry Bond, and Richard Marcinko. DeFelice s solo novels include Threat Level Black, Coyote Bird, War Breaker, and Brother s Keeper.
Praise For American Sniper…
#1 NEW YORK TIMES BESTSELLER
-No Source

"In the community of elite warriors, one man has risen above our ranks and distinguished himself as unique. Chris Kyle is that man. A master sniper, Chris has done and seen things that will be talked about for generations to come."
-MARCUS LUTTRELL, former USN SEAL, recipient of the Navy Cross for extraordinary heroism under fire, #1 bestselling author of Lone Survivor

"The raw and unforgettable narrative of the making of our country's record-holding sniper, Chris Kyle's memoir is a powerful book, both in terms of combat action and human drama. Chief Kyle is a true American warrior down to the bone, the Carlos Hathcock of a new generation."
-CHARLES W. SASSER, Green Beret (US Army Ret.) and author of One Shot, One Kill

"American Sniper is the inside story of what it's like to be in war. A brave warrior and patriot, Chris Kyle writes frankly about the missions, personal challenges, and hard choices that are part of daily life of an elite SEAL Sniper. It's a classic!"
-RICHARD MARCINKO (USN, Ret.), First Commanding Officer of SEAL Team Six and #1 bestselling author of Rogue Warrior

"Eloquent ... An aggressively written account of frontline combat, with plenty of action."
-KIRKUS REVIEWS

"Reads like a first-person thriller narrated by a sniper. The bare-bones facts are stunning. .... A first-rate military memoir."
-BOOKLIST