Code Name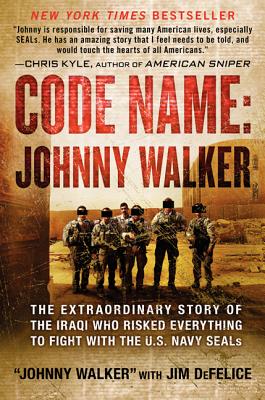 Code Name
Johnny Walker: The Extraordinary Story of the Iraqi Who Risked Everything to Fight with the U.S. Navy SEALs
William Morrow & Company, Hardcover, 9780062267559, 285pp.
Publication Date: February 11, 2014
* Individual store prices may vary.
Buy at Local Store
Enter your zip code below to purchase from an indie close to you.
or
Not Currently Available for Direct Purchase
Description
This is the unforgettable story of how an ordinary Iraqi became a hero to America's elite warriors--and how that debt was repaid with the gift of freedom.
He was the seals' most trusted interpreter . . . and more
Night after night, while his homeland was being destroyed around him, he guided the U.S. Navy SEALs through Iraq's most dangerous regions. Operating under the code name "Johnny Walker," he risked his life on more than a thousand missions and became a legend in the U.S. special-ops community, many of whose members credit him with saving their lives. But in the eyes of Iraq's terrorists and insurgents, he and his family were marked for death because he worked with the Americans. . . . Then the SEALs stood up to protect the man who had watched their backs through the entire war.
Over the course of eight years, the Iraqi native traveled around the country with nearly every SEAL and special-operations unit deployed there. Using his wits to outthink the insurgency, Johnny Walker unmasked countless terrorists and helped foil an untold number of plots against Americans and their allies. He went on hundreds of missions, saved dozens of American lives--both SEAL and civilian--and risked his own life daily. He and his family lived in constant jeopardy, surviving multiple assassination attempts and a host of threats in Mosul, until a desperate escape through the desert late in the war took them to the relative safety of Baghdad.
Fearing for Johnny's long-term safety after the war, the SEALs--now as close as brothers to Johnny--took it upon themselves to bring him to the United States, where today he and his family live their version of the American Dream. He remains in the fight by helping train the next generation of American special-operations warriors.
For the first time ever, a "terp" tells what it was like in Iraq during the American invasion and the brutal insurgency that followed. With inside details on SEAL operations and a humane understanding of the tragic price paid by ordinary Iraqis, Code Name: Johnny Walker reveals a side of the war that has never been told before.
About the Author
After the 2003 invasion of his home country, Iraqi-born "Johnny Walker" applied to become a translator for the U.S. Army. Turned down, out of work, and desperate to feed his family, Johnny was on the verge of despair until one night he interceded in a dispute between some Iraqi women and Ameri-can MPs. Impressed, the MPs arranged to hire him as their interpreter, or "terp." Johnny displayed such talent and incredible courage under fire that several months later an elite unit of Navy SEALs took him under its wing. He quickly became the most sought-after terp in the country, receiving numerous citations and commendations for his work. Credited by SEAL sniper Chris Kyle with saving countless American lives, Johnny spent six years working with SEALs and other special operations forces throughout Iraq, completing more than one thousand missions. After narrowly escaping two attempts on his life, Johnny was helped to the United States by the SEALs in 2009. He and his family currently live in California, where he helps train special operations units.

Jim DeFelice is the co-author of Chris Kyle s #1 New York Times bestseller American Sniper. He also is the author of Omar Bradley: General at War, the first in-depth critical biography of America s last five-star general, and the co-author of the New York Times bestseller Code Name: Johnny Walker: The Extraordinary Story of the Iraqi Who Risked Everything to Fight with the U.S. Navy SEALs. He writes acclaimed military thrillers, including the Rogue Warrior series from Richard Marcinko, founder of SEAL Team 6, and the novels in the Dreamland series with Dale Brown.
Sunday, Feb 9, 2014
Interpreter "Johnny Walker" accompanied the U.S. military on countless missions in his war-torn home country of Iraq. His memoir, Code Name: Johnny Walker, details his experiences with the SEALs and his family's long path to U.S. citizenship. More at NPR.org