Spider Woman's Daughter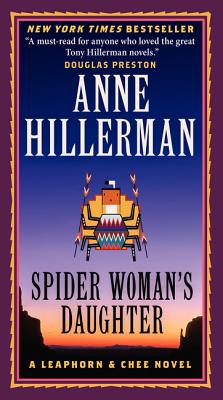 Spider Woman's Daughter
Harper, Mass Market Paperbound, 9780062270498, 356pp.
Publication Date: June 2014
* Individual store prices may vary.
Buy Now
or
Shop Local
Enter your zip code below to purchase from an indie close to you.
Description
Legendary tribal sleuths Leaphorn and Chee are back The supremely talented daughter of New York Times bestselling author Tony Hillerman continues his popular series.
It happened in an instant. After a breakfast with colleagues, Navajo Nation Police Officer Bernadette Manuelito sees a sedan careen into the parking lot and hears a crack of gunfire. When the dust clears, someone very close to her is lying on the asphalt in a pool of blood. With the victim in the hospital fighting for his life, every person in the squad and the local FBI office are hell-bent on catching the gunman. Bernie, too, wants in on the investigation, especially when her husband, Sergeant Jim Chee, is put in charge of finding the shooter.
Bernie and Chee discover that a cold case involving Chee's former boss and partner, retired lieutenant Joe Leaphorn, may hold the key to the shooting. Digging into the old investigation with fresh eyes and new urgency, husband and wife find themselves inching closer to the truth with every clue . . . and closer to a killer who will do anything to prevent justice from taking its course.
About the Author
Anne Hillerman is an award-winning reporter, the author of several nonfiction books and the New York Times bestselling novel Spider Woman's Daughter, and the daughter of New York Times bestselling author Tony Hillerman. She lives in Santa Fe, New Mexico.