Natchez Burning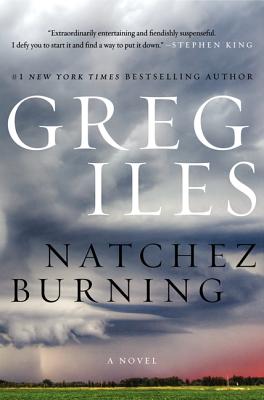 Natchez Burning
William Morrow & Company, Hardcover, 9780062311078, 800pp.
Publication Date: April 29, 2014
* Individual store prices may vary.
Buy Now
or
Shop Local
Enter your zip code below to purchase from an indie close to you.
Description
An American writer at the height of his creative powers, #1 New York Times bestselling novelist Greg Iles returns with his most eagerly anticipated book yet, and his first in five years--Natchez Burning, the first installment in an epic trilogy that weaves crimes, lies, and secrets past and present into a mesmerizing thriller featuring southern mayor and former prosecutor Penn Cage.
Raised in the historic southern splendor of Natchez, Mississippi, Penn Cage learned all he knows of honor and duty from his father, Dr. Tom Cage. But now the beloved family doctor and pillar of the community has been accused of murdering Viola Turner, the African-American nurse with whom he worked in the dark days of the 1960s. Once a crusading prosecutor, Penn is determined to save his father, but Tom, stubbornly invoking doctor-patient privilege, refuses to even speak in his own defense.
Penn's quest for the truth sends him deep into his father's past, where a sexually charged secret lies waiting to tear their family apart. More chilling, this long-buried sin is only a single thread in a conspiracy of greed and murder involving the vicious Double Eagles, an offshoot of the KKK controlled by some of the wealthiest and most powerful men in the state. Aided by a dedicated reporter privy to Natchez's oldest secrets and by his fiancee, Caitlin Masters, Penn uncovers a trail of corruption and brutality that places his family squarely in the Double Eagles' crosshairs. With every step costing blood and faith, Penn is forced to confront the most wrenching dilemma of his life: Does a man of honor choose his father or the truth?
Drenched in southern atmosphere, Natchez Burning marks the brilliant return of a genuine American master of suspense. Tense, disturbing, and filled with electrifying plot twists, this novel commences the most explosive and ambitious story Greg Iles has ever written.
About the Author
Greg Iles spent most of his youth in Natchez, Mississippi. His first novel, Spandau Phoenix, was the first of thirteen New York Times bestsellers, and his new trilogy continues the story of Penn Cage, protagonist of The Quiet Game, Turning Angel, and #1 New York Times bestseller The Devil s Punchbowl. Iles s novels have been made into films and published in more than thirty-five countries. He lives in Natchez with his wife and has two children.
Monday, Jul 21, 2014
Greg Iles sets his thrillers in the antebellum river city of Natchez, Miss. His latest book, Natchez Burning, pulls from true stories of the racial violence that gripped the state 50 years ago. More at NPR.org