From the New World (Los Angeles Times Book Award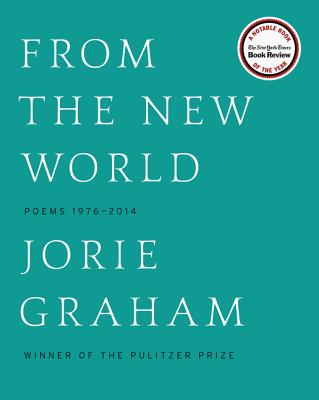 From the New World (Los Angeles Times Book Award
Poetry): Poems 1976-2014
Ecco Press, Hardcover, 9780062315403, 384pp.
Publication Date: February 17, 2015
* Individual store prices may vary.
Buy at Local Store
Enter your zip code below to purchase from an indie close to you.
or
Buy Here
Description
From pulitzer prize winner Jorie Graham, an indispensable volume of poems selected from almost four decades of work
Much awaited and long needed, From the New World a sequence of poems from Jorie Graham's prior eleven books creates a startlingly fresh trajectory through books whose brilliance and far-reaching innovations have been a significant influence on the landscape of contemporary poetry, both in the United States and abroad. Part spiritual autobiography, part survival manual, From the New World tracks what it is to attempt wakefulness in this our unprecedented historical, social, and ecological crisis. Life as we have known it, both in our persons and on the globe, rises in all its terror and deep mystery from these pages. How are we to be responsible, the book asks; how attend to drastic disappearance and still love? We finally have, in one volume, the stunning story Graham has written to keep both art and the human spirit instantaneously yet enduringly alive.
From the New World is an indispensable addition to any literary library, a tour de force selection of Jorie Graham's critically important poems to date. New York Journal of Books
Graham's great body of work, summarized in From the New World, her new career-spanning selected poems...has so much in it, more of life and of the world than that of almost any other poet now writing....Graham is to post-1980 poetry what Bob Dylan is to post-1960 rock: She changed her art form, moved it forward, made it able to absorb and express more than it could before. It permanently bears her mark. New York Times
Graham's poems make use of all the old lyric technologies, as ancient as the breath and the beating of the heart rhythm, the managed intervals of line and stanza, the play of language against silence, and the transformations enacted by metaphor enlisting them to measure a world of spawning complexity and change. But because she finds herself gauged by the world she gauges, a poetry that would seem almost too fine-grained for politics has become, in the past twenty years or so, a sui-generis account of global ills like species extinction and climate change. The New Yorker
Like the greatest filmmakers, Graham is miraculously gifted at tracing those inexplicable moments that carry a thing a crow, the sun, a snowflake from stillness to motion, from wholeness to disintegration and back again....I know of no living poet whose work so aligns with their reason for writing; I know of no living poet with a better reason for writing poetry. In Jorie Graham's vision of a new world, poetry thought in motion is faster and more powerful than money, argument, or destruction. Take me there. Flavorwire
Graham's is the best poetry written in English in the last forty years. The achievement of her verse is not only to make something happen: Graham's poetry is something happening....We will always need to read Jorie Graham, and to read her closely, if we want to understand the last forty years of poetry in America (as well as abroad, where her reputation is only growing)....From the New World is now the place to start. Los Angeles Review of Books.