The Heist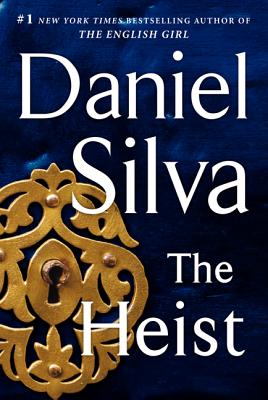 The Heist
Harper, Hardcover, 9780062320056, 475pp.
Publication Date: July 15, 2014
* Individual store prices may vary.
Buy Now
or
Shop Local
Enter your zip code below to purchase from an indie close to you.
Description
A fallen spyA missing masterpieceA daring missionThe Heist
Legendary spy and art restorer Gabriel Allon is in Venice repairing an altarpiece by Veronese when he receives an urgent summons from the Italian police. The eccentric London art dealer Julian Isherwood has stumbled upon a chilling murder scene in Lake Como, and is being held as a suspect. To save his friend, Gabriel must track down the real killers and then perform one simple task: find the most famous missing painting in the world.
Sometimes the best way to find a stolen masterpiece is to steal another one. . . .
The dead man is a fallen British spy with a secret: he has been trafficking in stolen artworks and selling them to a mysterious collector. Among those paintings is the world's most iconic missing masterpiece: Caravaggio's glorious Nativity with St. Francis and St. Lawrence.
Gabriel embarks on a daring gambit to recover the Caravaggio and learn the identity of the collector. His search will take him on an exhilarating hunt--from the shimmering boulevards of Paris and London to the gritty criminal underworlds of Marseilles and Corsica, and finally to a small private bank in Austria where a dangerous man stands guard over the ill-gotten wealth of a brutal dictator. At his side is a brave young woman who survived one of the worst massacres of the twentieth century. Now, with Gabriel's help, she will be given a chance to strike a blow against a dynasty that destroyed her family.
Elegant, sophisticated, and entertaining, The Heist is a must-read thriller--a page-turning tale of intrigue that demonstrates once again why Daniel Silva is called a "world-class practitioner of spy fiction" (Washington Post).
About the Author
DANIEL SILVA is the award-winning, #1, New York Times bestselling author of The Unlikely Spy, The Mark of the Assassin, The Marching Season, The Kill Artist, The English Assassin, The Confessor, A Death in Vienna, Prince of Fire, The Messenger, The Secret Servant, Moscow Rules, The Defector, The Rembrandt Affair, Portrait of a Spy, The Fallen Angel, The English Girl, The Heist and The English Spy. His books are published in more than thirty countries and are bestsellers around the world. He serves on the United States Holocaust Memorial Council and lives in Florida with his wife, NBC correspondent Jamie Gangel, and their two children, Lily and Nicholas.
Facebook http: //www.facebook.com/pages/Daniel-Silva/38728710956
Twitter @danielsilvabook
Website www.danielsilvabooks.com