The Loyal Lieutenant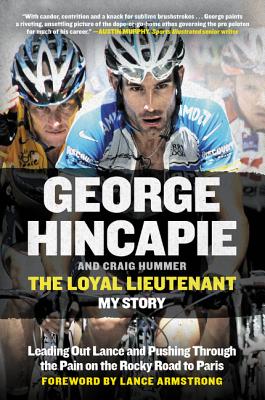 The Loyal Lieutenant
Leading Out Lance and Pushing Through the Pain on the Rocky Road to Paris
William Morrow & Company, Paperback, 9780062330925, 336pp.
Publication Date: May 2015
* Individual store prices may vary.
Shop Local
Enter your zip code below to find indies closest to you.
Description
George Hincapie is one of the most recognized cyclists in the world a record seventeen-time Tour de France participant, Olympian, beloved teammate, and celebrated lead-out man for Lance Armstrong. Chronicling the exhilarating ride of his career, Hincapie takes us through his adrenaline-junkie amateur years to the Olympics, going professional, and reaching his true calling as "domestique" a role in which Hincapie would lead Armstrong to seven straight Tour de France victories.
Respected as a natural cyclist and tireless team player, George earned a sterling reputation which would enable him to rise above a confession that shocked the entire sports world, when he became a key witness in the doping case of Lance Armstrong. Revealing the role of drugs in cycling, why he chose to quit, and what led to the testimony that broke Armstrong's case, Hincapie makes an impassioned argument for a change in the sport. Interspersed with commentary from others in the cycling community, The Loyal Lieutenant offers an honest and compelling account of not only a dark period in professional cycling, but also the demands required of the best in the field.
About the Author
George Hincapie is one of the most recognized riders in the world, with numerous world championships, national championships, and professional victories to his credit. Since retiring from professional cycling, George has taken an active role in family business interests, including Hincapie Sportswear.

Craig Hummer is an Emmy-nominated sports broadcaster who has been involved in the action/lifestyle sports world for more than twenty years, first as a professional athlete in the sport of Ocean Ironman racing, and now as a commentator having covered more than fifty sports.