How to Build a Girl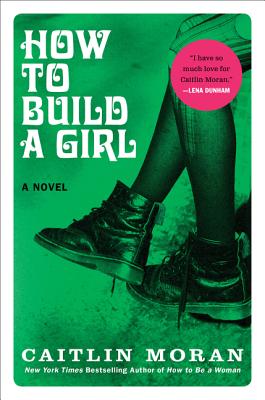 How to Build a Girl
Harper, Hardcover, 9780062335975, 341pp.
Publication Date: September 23, 2014
* Individual store prices may vary.
Buy at Local Store
Enter your zip code below to purchase from an indie close to you.
or
Buy Here
Description
What do you do in your teenage years when you realize what your parents taught you wasn't enough? You must go out and find books and poetry and pop songs and bad heroes--and build yourself.
It's 1990. Johanna Morrigan, fourteen, has shamed herself so badly on local TV that she decides that there's no point in being Johanna anymore and reinvents herself as Dolly Wilde--fast-talking, hard-drinking gothic hero and full-time Lady Sex Adventurer. She will save her poverty-stricken Bohemian family by becoming a writer--like Jo in Little Women, or the Brontes--but without the dying-young bit.
By sixteen, she's smoking cigarettes, getting drunk, and working for a music paper. She's writing pornographic letters to rock stars, having all the kinds of sex with all the kinds of men, and eviscerating bands in reviews of 600 words or less.
But what happens when Johanna realizes she's built Dolly with a fatal flaw? Is a box full of records, a wall full of posters, and a head full of paperbacks enough to build a girl after all?
Imagine The Bell Jar--written by Rizzo from Grease. How to Build a Girl is a funny, poignant, and heartbreakingly evocative story of self-discovery and invention, as only Caitlin Moran could tell it.
About the Author
CAITLIN MORAN was named the Columnist of the Year by the British Press Awards in 2010 and Critic and Interviewer of the Year in 2011 for her work at the Times of London. Her debut book, How to Be a Woman, won the 2011 Galaxy Book of the Year Award and was an instant New York Times bestseller. You can follow Caitlin on Twitter @caitlinmoran.
Monday, Sep 29, 2014
Caitlin Moran's semi-autobiographical novel is an earnestly written look at a young woman's self-reinvention. How to Build a Girl tackles class, gender and sexuality with both humor and sincerity. More at NPR.org