Charlotte's Web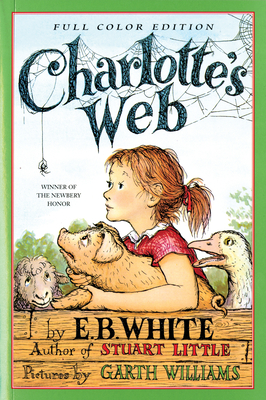 Charlotte's Web
HarperCollins Publishers, Paperback, 9780064410939, 184pp.
Publication Date: October 2001
* Individual store prices may vary.
Shop Local
Enter your zip code below to find indies closest to you.
Description
Beloved by generations, Charlotte's Web and Stuart Little are two of the most cherished stories of all time. Now, for the first time ever, these treasured classics are available in lavish new collectors' editions. In addition to a larger trim size, the original black-and-white art by Garth Williams has been lovingly colorized by renowned illustrator Rosemary Wells, adding another dimension to these two perfect books for young and old alike.
About the Author
E. B. White, the author of such beloved classics as Charlotte's Web, Stuart Little, and The Trumpet of the Swan, was born in Mount Vernon, New York. He graduated from Cornell University in 1921 and, five or six years later, joined the staff of The New Yorker magazine, then in its infancy. He died on October 1, 1985, and was survived by his son and three grandchildren.
Mr. White's essays have appeared in Harper's magazine, and some of his other books are: One Man's Meat, The Second Tree from the Corner, Letters of E. B. White, Essays of E. B. White, and Poems and Sketches of E. B. White. He won countless awards, including the 1971 National Medal for Literature and the Laura Ingalls Wilder Award, which commended him for making a "substantial and lasting contribution to literature for children."
During his lifetime, many young readers asked Mr. White if his stories were true. In a letter written to be sent to his fans, he answered, "No, they are imaginary tales . . . But real life is only one kind of life there is also the life of the imagination."
Garth Williams's classic illustrations for the Little House books caused Laura to remark that she "and her folks live again in these pictures." Garth Williams also illustrated Charlotte's Web, Stuart Little, and almost one hundred other books.
Rosemary Wells has written and/or illustrated more than 120 books for children and has received many awards for both her writing and her illustration. She is the author of On the Blue Comet, illustrated by Bagram Ibatoulline; the co-author (with Secundino Fernandez) of My Havana: Memories of a Cuban Boyhood, illustrated by Peter Ferguson; and the author of Lincoln and His Boys, illustrated by P.J. Lynch. She is also the creator of the beloved Max and Ruby stories and the illustrator of My Very First Mother Goose and Here Comes Mother Goose, both edited by Iona Opie. Rosemary Wells lives in upstate New York.