The Master Butchers Singing Club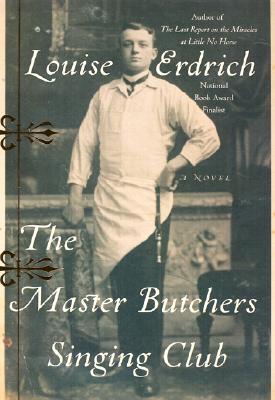 The Master Butchers Singing Club
HarperCollins, Hardcover, 9780066209777, 400pp.
Publication Date: February 1, 2003
* Individual store prices may vary.
Buy at Local Store
Enter your zip code below to purchase from an indie close to you.
or
Not Currently Available for Direct Purchase
Description
What happens when a trained killer discovers that his true vocation is love? Having survived the killing fields of World War I, Fidelis Waldvogel returns home to his quiet German village and marries the pregnant widow of his best friend who was killed in action.
With a suitcase full of sausages and a master butcher's precious set of knives, Fidelis sets out for America, getting as far as North Dakota, where he builds a business, a home for his family—which includes Eva and four sons—and a singing club consisting of the best voices in town.
When the Old World meets the New—in the person of Del-phine Watzka—the great adventure of Fidelis's life begins. Delphine meets Eva and is enchanted; she meets Fidelis, and the ground trembles. These momentous encounters will determine the course of Delphine's life—and the trajectory of this brilliant new novel by Louise Erdrich
Praise For The Master Butchers Singing Club…
"Erdrich is an abundantly gifted storyteller, with a penchant for meticulous detail and tremendous empathy for her characters."
-Charlotte Observer

"Appropriately grim and thoughtful, THE MASTER BUTCHERS SINGING CLUB is also full of tenderness and life … Marvelous."
-Entertainment Weekly

"Emotionally resonant."
-Michiko Kakutani, New York Times

"[THE MASTER BUTCHERS SINGING CLUB] is marked by moments of true creative genius, exquisitely imagined and masterfully drawn."
-Richmond Times-Dispatch

"A thoughtful, artful, painfully moving addition to an ongoing American saga .. unimaginably rich."
-Kirkus Reviews

"[A] magnificent tale … poignant in the mysteries it evokes and patient with the questions is leaves unanswered."
-Los Angeles Times Book Review

"Louise Erdrich hits every note in THE MASTER BUTCHERS SINGING CLUB"
-Vanity Fair

"A brilliantly layered look at war's costs …Daring, graceful, comprehending and, rooted in the great plains, uniquely American."
-Kansas City Star

"An enrapturing plunge into the depths of the human heart."
-Washington Post Book World

"Lush and stark … employing vivid imagery, deft description and dialogue that flows … Stunning language."
-St. Louis Post-Dispatch

"Louise Erdrich's rousing and radiant new novel THE MASTER BUTCHERS SINGING CLUB is all kinds of lovely."
-Newsweek

"THE MASTER BUTCHERS SINGING CLUB can surely be cast as the most wrenching and wise of Erdrich's nine novels."
-Miami Herald

"Grand and generous fiction… Erdrich's most sweeping and ambitious yet."
-BookPage

"A substantial, beautifully composed, confident work of art … both expansive in its reach and intimate in its intense focus."
-O magazine

"Satisfying and life-affirming."
-Atlantic Monthly

"Rich and vibrant …Magnificent."
-Milwaukee Journal Sentinel

"Each moment and its particulars dazzles … Fidelis and firm-bellied Delphine and the rest [of the characters] are masterworks."
-San Francisco Chronicle

"Miraculous …[Erdrich is] at the peak of powers as a writer … Her work is as melodious as ever."
-Boston Globe

"The Master Butchers Singing Club reveals on of our finest writers at the peak of her considerable powers."
-Minneapolis Star Tribune

"Not since Ricard Russo's 2001 novel EMPIRE FALLS ... have I enjoyed the company of such memorable characters."
-Bob Minzesheimer, USA Today

"[A] masterpiece… Erdrich never hits a false note."
-Pittsburgh Post-Gazette

"Delphine, the book's central figure, is Erdrich's most finely wrought and compelling character."
-Denver Rocky Mountain News