Asian Grilling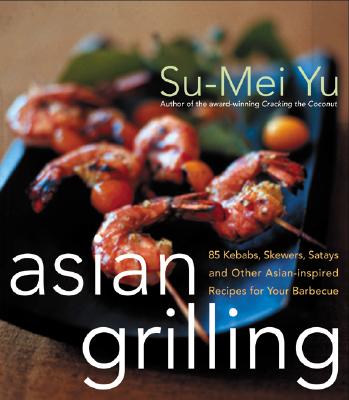 Asian Grilling
85kebabs, Skewers, Satays and Other Asian-Inspired Recipes for Your Barbecue
William Morrow & Company, Hardcover, 9780066211190, 164pp.
Publication Date: June 2002
* Individual store prices may vary.
Not Currently Available for Direct Purchase
or
Shop Local
Enter your zip code below to purchase from an indie close to you.
Description
Now you can bring the authentic tastes and techniques of Asian grilling right into your own home. Su-Mei Yu, renowned Thai chef, teacher, restaurateur, and award-winning author of Cracking the Coconut, shows you just how easy it is to grill in her new book, Asian Grilling.
Su-Mei captures the splendor and diversity of Asia's cuisines -- Chinese, Thai, Vietnamese, Korean, Indian, Burmese, Laotian, and Cambodian -- in this superb collection of 85 recipes. With Su-Mei's guidance and clearly written recipes, you'll be able to cook some of the world's most delicious grilled foods, including Indian Chicken Tandoori, Vietnamese-Style Grilled Beef in Lettuce, and Thai Grilled Pork Strips.
Asian Grilling begins with some of the better-known Asian dishes such as Chicken Yakitori, Pork Satay, and Lamb Kebabs. Su-Mei then takes you through her own treasured recipes for Salt-Grilled Yellowtail Tuna from Japan, Vietnamese Grilled Shrimp on Sugarcane Stalks, Bulgogi (Korean Barbecued Beef), and so much more. Along with these dishes, you'll find recipes for zesty dipping sauces and flavorful relishes to enhance every bite.
In the "Wrapped and Grilled" and "Grilled and Wrapped" chapters, you'll learn how each cuisine uses leaves and casings to make grilling pouches. When these pouches are opened at the table, they fill the room with a unique and savory perfume. The large green leaves of the banana plant are used to wrap everything from Malaysian Spicy Fish Cakes to Chinese-style grilled chicken. In true fusion style, Su-Mei encases a warm filling of grilled vegetables and cheese in a tortilla to make one of her favorite recipes, Thai Quesadillas. Even the ubiquitous lettuce leaf makes a great wrapper for curried lamb, grilled shrimp, and more.
Grilled vegetables and salads, main course rice and noodle dishes, and even grilled fruit desserts round out this collection. There are also detailed instructions for preparing the grill and making spice pastes and essential tips on shopping for and preparing Asian ingredients. Stunning color photographs illustrate how the dishes look.
Turn your kitchen into an Asian barbecue. It's easy with Asian Grilling by Su-Mei Yu.
About the Author
Su-Mei Yu is the author of Cracking the Coconut, which won an IACP Cookbook Award in 2000 in the First Book Category, and Asian Grilling. She is chef-owner of the acclaimed Saffron restaurant in San Diego, California. Born of Chinese parents in Thailand, at the age of five she was enrolled in an exclusive boarding school founded by the Royal Court of Thailand. At age fifteen, Su-Mei came to an American mission boarding school in Kentucky. After graduation, she received a master's degree in social welfare. After twelve years as a social worker, she joined the graduate school of social work at San Diego State University as an assistant professor. In 1985 Su-Mei opened the first Thai restaurant in San Diego.