Green Lighting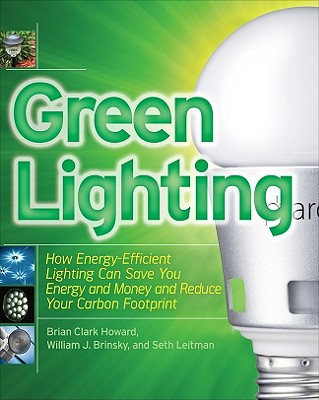 Green Lighting
How Energy-Efficient Lighting Can Save You Energy and Money and Reduce Your Carbon Footprint
McGraw-Hill/Tab Electronics, Paperback, 9780071630160, 218pp.
Publication Date: October 1, 2010
* Individual store prices may vary.
Buy Now
or
Shop Local
Enter your zip code below to purchase from an indie close to you.
Description
Flip the switch to energy-efficient lighting
This do-it-yourself guide makes it easy to upgrade residential and commercial lighting to reduce costs and environmental impact while maintaining or even improving the quality of the lighting. Filled with step-by-step instructions, "Green Lighting" shows you how to save money and energy with light-emitting diodes (LEDs), compact fluorescent lighting (CFL), solar lights, windows, skylights, fixtures, controls, and other bright ideas. Methods for calculating return on investment, plus recommended sources for energy-efficient products, are included in this practical resource. "Green Lighting" covers: Color temperature measurements In-depth details on the differences between LEDs and CFLs How utilities bill for electricity usage Comparing wattage and determining energy savings ENERGY STAR(r) ratings Purchasing appropriate bulbs, fixtures, and sensors Developing a comprehensive green lighting plan for your entire home, office, or commercial environment Incandescent, halogen, and gas-discharge lighting Solar and next-generation lighting.
About the Author




Seth Leitman, (Briarcliff Manor, NY) is currently President and Managing Member of the ETS Energy Store, LCC, which provides energy efficiency, electric transportation and organic, natural, and sustainable products for business and home use (from energ-efficient bulbs to electric vehicle conversion referrals). Previously, he worked for the New York State Power Authority and the New York State Energy Research and Development Authority, where he helped develop, market, and manage electric and hybrid vehicle programs serving New York State and the New York metropolitan area. Seth is the consulting editor for a series of upcoming titles called the Green Guru Guides, which focus on implementing environmentally friendly technologies and making them work for you. Seth created and maintains a green living blog (www.greenlivingguy.com), and is the author of Build Your Own Electric Vehicle, Second Edition (McGraw-Hill, 9/08).