Hundred Percenters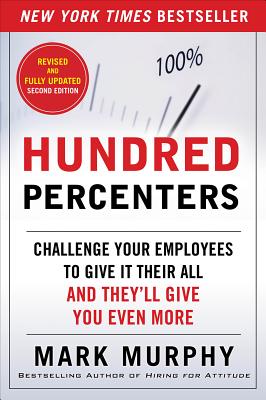 Hundred Percenters
Challenge Your Employees to Give It Their All, and They'll Give You Even More
McGraw-Hill, Paperback, 9780071825566, 210pp.
Publication Date: October 8, 2013
* Individual store prices may vary.
Buy Now
or
Shop Local
Enter your zip code below to purchase from an indie close to you.
Description
THE "NEW YORK TIMES" BESTSELLER
The groundbreaking guide to inspiring 100% performance from employees--updated with expanded research findings
In this new edition of his guide to unleashing employees' full potential, Mark Murphy explains why true employee motivation is not achieved by focusing on making your people "happy." The most effective leaders are the ones who respect their people enough to push them to deliver real results--to become Hundred Percenters.
Basing its conclusions on a detailed study of more than 500,000 leaders and employees, "Hundred Percenters," Second Edition, provides the tools and techniques--and the rationale behind them--to help you create an army of employees who don't just do their best but who also deliver results.
PRAISE FOR THE FIRST EDITION OF HUNDRED PERCENTERS
""Provides the tools managers need to take 'average' employees and create a culture of accountable, fully engaged people. Managers will learn to recognize their leadership style and understand how they, too, can become Hundred Percenters."" -- Laura Christiansen, Vice President Human Resources, VTech Communications, Inc.
""Heavily researched and loaded with tools and examples, this book shows you how to challenge your employees to achieve the kind of extraordinary results and innovations that every CEO dreams about. Every leader needs to read this book "" -- Ned Fitch, CEO, Kalahari Tea
""Murphy finds that most workplaces are brimming with untapped talent. Only it's suppressed by goal-setting that discourages big ideas and leaders who focus on happiness rather than greatness."" -- Training magazine.
About the Author
Mark Murphy is the author of the bestsellers "Hundred Percenters" and "HARD Goals". The founder and CEO of Leadership IQ, a top-rated provider of cutting-edge research and leadership training, Mark has personally provided guidance to more than 100,000 leaders from virtually every industry and half the Fortune 500. His public leadership seminars, custom corporate training, and online training programs have yielded remarkable results for companies including Microsoft, IBM, GE, MasterCard, Merck, AstraZeneca, MD Anderson Cancer Center, and Johns Hopkins.