The Selling of the President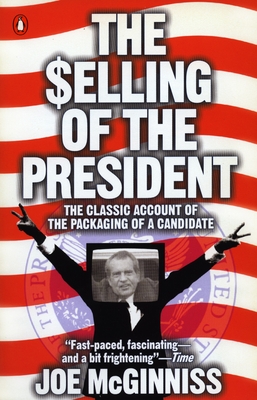 The Selling of the President
Penguin Books, Paperback, 9780140112405, 251pp.
Publication Date: August 2, 1988
* Individual store prices may vary.
Buy Now
or
Shop Local
Enter your zip code below to purchase from an indie close to you.
Description
What makes you cast your ballot?
A Presidential candidate or a good campaign?
How he stands on the issues or how he stands up to the camera?
The Selling of the President is the enduring story of the 1968 campaign that wrote the script for modern Presidential politickingand how that script came to be. It introduces: Harry Treleaven, the first adman to suggest that issues bore voters, that image is what countsRoger Ailes, a PR man who coordinated the TV presentations that delivered the productFrank Shakespeare, the man behind the whole campaign, who, after eighteen years at CBS, cast the image that sold America a PresidentAnd the candidate, Richard Nixon himselfa politician running on television for the highest office in the land
In his introduction, Joe McGinniss discusses whyunfortunatelyhis classic book is as pertinent today to understanding our political culture as it was the year it was published.
About the Author
Joe McGinnis is one of our great storytellers. He is the author of many works, including the bestsellers Blind Faith, Fatal Vision, and Cruel Doubt.