Big Sur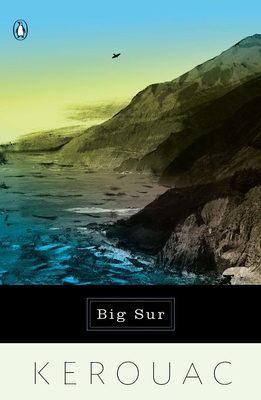 Big Sur
Penguin Books, Paperback, 9780140168129, 256pp.
Publication Date: June 1, 1992
* Individual store prices may vary.
Buy at Local Store
Enter your zip code below to purchase from an indie close to you.
or
Buy Here
Description
"Each book by Jack Kerouac is unique, a telepathic diamond. With prose set in the middle of his mind, he reveals consciousness itself in all its syntatic elaboration, detailing the luminous emptiness of his own paranoiac confusion. Such rich natural writing is nonpareil in later half XX century, a synthesis of Proust, Celine, Thomas Wolfe, Hemingway, Genet, Thelonius Monk, Basho, Charlie Parker, and Kerouac's own athletic sacred insight.
"Big Sur's humane, precise account of the extraordinary ravages of alcohol delirium tremens on Kerouac, a suerior novelist who had strength to complete his poetic narrative, a task few scribes so afflicted have accomplishedothers crack up. Here we meet San Francisco's poets & recognize hero Dean Moriarty ten years after On the Road. Jack Kerouac was a 'writer, ' as his great peer W.S. Burroughs says, and here at the peak of his suffering humorous genius he wrote through his misery to end with 'Sea, ' a brilliant poem appended, on the hallucinatory Sounds of the Pacific Ocean at Big Sur." Allen Ginsberg.
About the Author
Jack Kerouac was born in 1922 in Lowell, Massachusetts. The best-known of his many works, On the Road, published in 1957, was an international bestseller. He died in St. Petersburg, Florida, at the age of forty-seven.

Aram Saroyan is an internationally known poet, novelist, biographer, memoirist and playwright. His poetry has been widely anthologized and appears in many textbooks. Among the collections of his poetry are Aram Saroyan and Pages (both Random House). His largest collection, Day and Night: Bolinas Poems, was published by Black Sparrow Press in 1999. Saroyan's prose books include Genesis Angels: The Saga of Lew Welch and the Beat Generation; Last Rites, a book about the death of his father, the playwright and short story writer William Saroyan; Trio: Portrait of an Intimate Friendship; The Romantic, a novel that was a Los Angeles Times Book Review Critics' Choice selection; a memoir, Friends in the World: The Education of a Writer; and the true crime Literary Guild selection Rancho Mirage: An American Tragedy of Manners, Madness and Murder. Selected essays, Starting Out in the Sixties, appeared in 2001, and Artists in Trouble: New Stories in early 2002.
Tuesday, Oct 20, 2009
The new documentary One Fast Move or I'm Gone uses various artists to voice Jack Kerouac's novel Big Sur. Director Curt Worden and biographer Joyce Johnson discuss the beat poet's relationship with the California coast. More at NPR.org