Children of Cain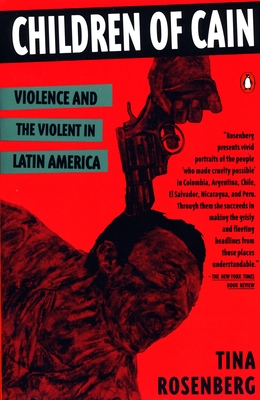 Children of Cain
Violence and the Violent in Latin America
Penguin Books, Paperback, 9780140172546, 400pp.
Publication Date: October 1, 1992
* Individual store prices may vary.
Buy at Local Store
Enter your zip code below to purchase from an indie close to you.
or
Buy Here
Description
An honest judge in Medellin, a Maoist guerilla of Peru's Shining Path, the fair-haired Angel of Death in Argentina's Dirty War, the pool-party rich of El Salvador, the disabused revolutionaries of Nicaragua, and the ordinary Chileans who became silent partners in Pinochet's dictatorshipthese people live in Latin America, but their stories illuminate the human face of violence all over the world.
Tina Rosenberg spent five years trying to understand their world and learning to live with these "children of Cain." Their stories are disturbing precisely because these people are not monsters; the faces in Children of Cain are not those of strangers.
About the Author
Journalist Tina Rosenberg lived and traveled extensively in Latin America from 1985 to 1991. She was awarded a MacArthur Fellowship in 1987. Her work has appeared in such magazines as Esquire, Rolling Stone, The Atlantic, Foreign Policy, and The New Republic. She now lives in Washington, D.C.
Praise For Children of Cain…
"Rosenberg presents vivid portraits of the people 'who made cruelty possible' in Colombia, Argentina, Chile, El Salvador, Nicaragua, and Peru. Through them she succeeds in making the grisly and fleeting headlines from those places understandable.'
The New York Times Book Review

"There is perhaps no more succinct and authoritative account of . . . pivotal events in recent Latin American history. There is certainly no better-written and more riveting account."
The Washington Post Book World

"Rosenberg . . . provides sharp analysis and history. . . . This is an important book. Rosenberg asks all sides for answers, ad braves real physical danger, and retains a healthy incredultiy and sense of humor."
Newsday

"It is Rosenberg's intelligent eye, her sense of the absurd, her unfailing courage and perseverance, and most important, her empathy and compassion that bring Children of Cain to life and start to lead North American readers down the hard path toward understanding Latin America."
Los Angeles Times Book Review