Golf in the Kingdom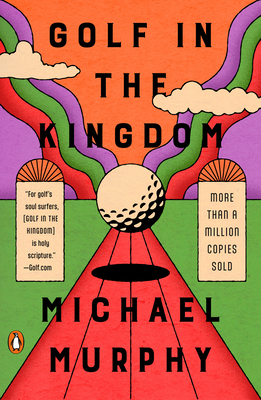 Golf in the Kingdom
Penguin Books, Paperback, 9780140195491, 240pp.
Publication Date: October 1, 1997
* Individual store prices may vary.
Buy Now
or
Shop Local
Enter your zip code below to purchase from an indie close to you.
Description
Since its first publication, Golf in the Kingdom has been recognized as a classic work on the deeper mysteries of golfa gospel of those who suspect, or know, that golf is more than a mere pastime.A young man en route to India stops in Scotland to play at the legendary Burningbush golf club and in twenty-four hours, his life is transformed. Paired with a mysterious teacher named Shivas Irons, he is led through a round of phenomenal golf, swept into a world where extraordinary powers are unleashed in a a backswing governed by true gravity. A night of adventure and revelation follow, and lead to a glimpse of Seamus MacDuff, the holy man who haunts a ravine off Burningbush's thirteenth fairwayone they call Lucifer's Rug.Murphy's account reveals the possibilities for transcendence that resides in the human soul, and through mystic-philosopher Shivas Irons, the reader, like Murphy, becomes drawn into new worlds by this ancient and haunting game.
About the Author
Michael Murphy, a Chartered Financial Analyst, has followed technology stocks for over 30 years. He founded and edits the California Technology Stock Letter, a nationally-known investment advisory newsletter specializing in electronics and medical technology stocks. He is the Chief Investment Officer of Murphy Investment Management, a registered investment adviser managing the Murphy New World no-load technology mutual funds. He authored the best-selling business book, Every Investor's Guide to High-Tech Stocks and Mutual Funds. He set the world land speed record for Class I/E electric cars on the Bonneville Salt Flats, and works and lives in Half Moon Bay, California. Marc Robinson is co-founder of Internet-based moneytours.com, a personal finance resource for corporations, universities, credit unions, and other institutions interested in helping their constituents make intelligent decisions about their financial lives. He wrote the original The Wall Street Journal Guide to Understanding Money and Markets, created The Wall Street Journal Guide to Understanding Personal Finance, co-published a personal finance series with Time Life Books, and wrote a children's book about onomatopoeia in different languages. In his two decades in the financial service industry, Marc has provided marketing consulting to many top Wall Street firms. He is admitted to practice law in New York State.