Minor Characters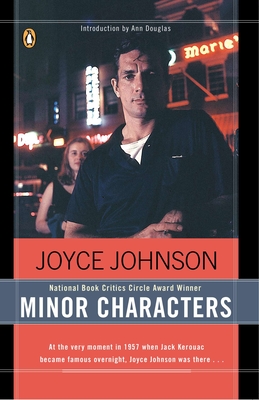 Minor Characters
A Beat Memoir
Penguin Books, Paperback, 9780140283570, 304pp.
Publication Date: July 1, 1999
* Individual store prices may vary.
Buy Now
or
Shop Local
Enter your zip code below to purchase from an indie close to you.
Description
Jack Kerouac. Allen Ginsberg. William S. Burroughs. LeRoi Jones. Theirs are the names primarily associated with the Beat Generation. But what about Joyce Johnson (nee Glassman), Edie Parker, Elise Cowen, Diane Di Prima, and dozens of others? These female friends and lovers of the famous iconoclasts are now beginning to be recognized for their own roles in forging the Beat movement and for their daring attempts to live as freely as did the men in their circle a decade before Women's Liberation.Twenty-one-year-old Joyce Johnson, an aspiring novelist and a secretary at a New York literary agency, fell in love with Jack Kerouac on a blind date arranged by Allen Ginsberg nine months before the publication of On the Road made Kerouac an instant celebrity. While Kerouac traveled to Tangiers, San Francisco, and Mexico City, Johnson roamed the streets of the East Village, where she found herself in the midst of the cultural revolution the Beats had created. Minor Characters portrays the turbulent years of her relationship with Kerouac with extraordinary wit and love and a cool, critical eye, introducing the reader to a lesser known but purely original American voice: her own.
About the Author


James T. Farrell (1904-1979), a native of Chicago, was a prolific novelist and prominent social activist. He is best known for his gritty novels depicting lower middle-class Irish Catholic life, including his masterpiece, "The Studs Lonigan trilogy,"
Ann Douglas teaches English at Columbia University. Her books include "Terrible Honesty: Mongrel Manhattan in the 1920s" and "The Feminization of American Culture,"