Alice's Adventures in Wonderland and Through the Looking-Glass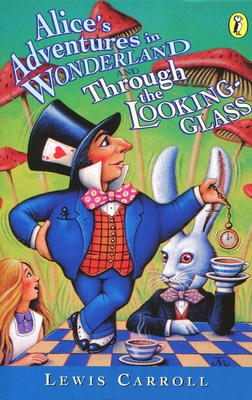 Alice's Adventures in Wonderland and Through the Looking-Glass
Puffin Books, Paperback, 9780140383515, 336pp.
Publication Date: April 1998
* Individual store prices may vary.
Shop Local
Enter your zip code below to find indies closest to you.
Description
Journey to Wonderland and through the Looking Glass with Alice. Meet the unforgettable characters of these two magical books, collected in one volume: the White Rabbit, the Mad Hatter, the Cheshire Cat, Tweedledee and Tweedledum, and many others. Nothing is ordinary in the surprising worlds Alice finds herself in Lewis Carroll's (1832-1898) popular books about Alice marked a turning point in children's literature?for the first time, children's stories were primarily for fun, rather than for instruction or moralizing.
About the Author
Lewis Carroll was the pen name of Charles Lutwidge Dodgson, an English writer, mathematician, Anglican deacon, and photographer. Best known for his classics Alice s Adventures in Wonderland, Through the Looking Glass, and Jabberwocky, Carroll was also an accomplished inventor who created an early version of what is today known as Scrabble. The publication of Alice s Adventures in Wonderland in 1865 brought Carroll a certain level of fame, although he continued to supplement his income through his work as a mathematics tutor at Christ Church, Oxford College. Carroll s whimsical characters and nonsensical verse resonated with Victorian-era readers, and his books continue to be enjoyed by numerous modern societies dedicated to his promoting his works.

Lewis Carroll (1832-1898), the pen name of Oxford mathematician, logician, photographer and author Charles Lutwidge Dodgson, is famous the world over for his fantastic classics Alice in Wonderland, Through the Looking Glass, The Hunting of the Snark, Jabberwocky, and Sylvie and Bruno.

The many works of Sir John Tenniel (1820-1914) include many humorous and political cartoons for Punch and other periodicals of the time, but he is best known for his illustrations of the original editions of Alice in Wonderland and Through the Looking Class.