Heartbreak House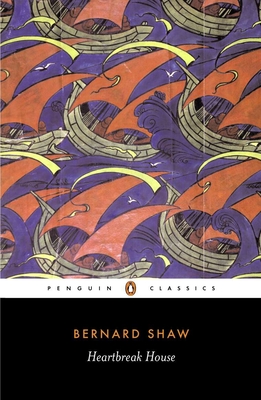 Heartbreak House
Penguin Books, Paperback, 9780140437874, 160pp.
Publication Date: January 1, 2001
* Individual store prices may vary.
Buy Now
or
Shop Local
Enter your zip code below to purchase from an indie close to you.
Description
When Ellie Dunn joins a house-party at the home of the eccentric Captain Shotover, she causes a stir with her decision to marry for money rather than love, and the Captain's forthright daughter Hesione protests vigorously against the pragmatic young woman's choice. Opinion on the matter quickly divides and a lively argument about money and morality, idealism and realism ensues as Hesione's rakish husband, snobbish sister and Ellie's fiance - a wealthy industrialist - enter the debate. Written between 1916 and 1917 as war raged across Europe, Heartbreak House is a telling indictment of the generation responsible for the First World War. With its bold combination of high farce and bitter tragedy, Shaw's play remains an uncannily prophetic depiction of a society on the threshold of an abrupt awakening.
About the Author


David Hare was born in Sussex, England in 1947. His first play, "Slag," was produced in 1970. His other works include "Plenty" (1978), "A Map of the World" (1983), and "Pravda "(1985). A founder of the Portable Theatre and the Joint Stock, he became resident dramatist and literary manager of the Royal Court Theatre, London (1967-71), and at the Nottingham Playhouse (1973). Until recently, Hare served as director of the National Theatre, London. In 1982, Hare founded a film company, Greenpoint Films. He has written several screenplays including "Plenty" (1985), "Weatherby" (1985), S"trapless" (1989), and "Damage" (1992). Several of his best-known plays," The Secret Rapture," "Racing Demon," "Skylight,"" The Judas Kiss," "Via Dolorosa" and "Amy's View" have been presented on Broadway.