Capital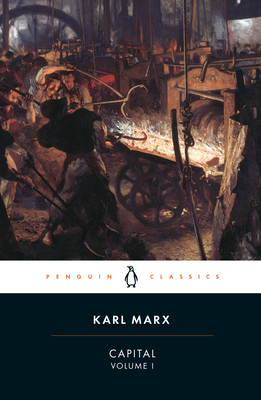 Capital
Volume 1: A Critique of Political Economy
Penguin Books, Paperback, 9780140445688, 1152pp.
Publication Date: May 5, 1992
* Individual store prices may vary.
Buy Now
or
Shop Local
Enter your zip code below to purchase from an indie close to you.
Description
The first volume of a political treatise that changed the world
One of the most notorious works of modern times, as well as one of the most influential, "Capital"is an incisive critique of private property and the social relations it generates. Living in exile in England, where this work was largely written, Marx drew on a wide-ranging knowledge of its society to support his analysis and create fresh insights. Arguing that capitalism would cause an ever-increasing division in wealth and welfare, he predicted its abolition and replacement by a system with common ownership of the means of production."Capital"rapidly acquired readership among the leaders of social democratic parties, particularly in Russia in Germany, and ultimately throughout the world, to become a work described by Marx friend and collaborator Friedrich Engels as the Bible of the working class.
For more than seventy years, Penguin has been the leading publisher of classic literature in the English-speaking world. With more than 1,700 titles, Penguin Classics represents a global bookshelf of the best works throughout history and across genres and disciplines. Readers trust the series to provide authoritative texts enhanced by introductions and notes by distinguished scholars and contemporary authors, as well as up-to-date translations by award-winning translators.
About the Author
Described as one of the most influential figures in human history, Karl Marx was a German philosopher and economist who wrote extensively on the benefits of socialism and the flaws of free-market capitalism. His most notable works, Das Kapital and The Communist Manifesto (the latter of which was co-authored by his collaborator Friedrich Engels), have since become two of history s most important political and economic works. Marxismthe term that has come to define the philosophical school of thought encompassing Marx s ideas about society, politics and economicswas the foundation for the socialist movements of the twentieth century, including Leninism, Stalinism, Trotskyism, and Maoism. Despite the negative reputation associated with some of these movements and with Communism in general, Marx s view of a classless socialist society was a utopian one which did not include the possibility of dictatorship. Greatly influenced by the philosopher G. W. F. Hegel, Marx wrote in radical newspapers from his young adulthood, and can also be credited with founding the philosophy of dialectical materialism. Marx died in London in 1883 at the age of 64.



Fowkes is Senior Lecturer in the Faculty of Humanities at the University of North London.