The Real Story of Ah-Q and Other Tales of China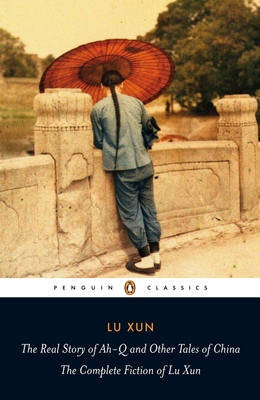 The Real Story of Ah-Q and Other Tales of China
The Complete Fiction of Lu Xun
Penguin Books, Paperback, 9780140455489, 416pp.
Publication Date: January 26, 2010
* Individual store prices may vary.
Buy Now
or
Shop Local
Enter your zip code below to purchase from an indie close to you.
Description
The acclaimed translation of the complete fiction of the father of modern Chinese literature
Lu Xun is one of the founding figures of modern Chiense literature. In the early twentieth century, as China came up against the realities of the modern world, Lu Xun effected a shift in Chinese letters away from the ornate, obsequious literature of the aristocrats to the plain, expressive literature of the masses. His celebrated short stories assemble a powerfully unsettling portrait of the superstition, poverty, and complacency that he perceived in late imperial China and in the revolutionary republic that toppled the last dynasty in 1911. This volume presents Lu Xun's complete fiction in bracing new translations and includes such famous works as "The Real Story of Ah-q," "Diary of a Madman," and "The Divorce." Together they expose a contradictory legacy of cosmopolitan independence, polemical fractiousness, and anxious patriotism that continues to resonate in Chinese intellectual life today.
For more than seventy years, Penguin has been the leading publisher of classic literature in the English-speaking world. With more than 1,700 titles, Penguin Classics represents a global bookshelf of the best works throughout history and across genres and disciplines. Readers trust the series to provide authoritative texts enhanced by introductions and notes by distinguished scholars and contemporary authors, as well as up-to-date translations by award-winning translators.
About the Author
Gladys Yang and Yang Xianyi are the most distinguished team of Chinese-English translators. Besides Lu Xun, they have also translated many classics of traditional Chinese literature.
Julia Lovell is an author, translator, and academic. She is the author of the widely acclaimed The Great Wall: China Against the World 1000 BC AD 2000, which was published in eighteen countries. She has translated many key Chinese works into English, including Lust, Caution by Eileen Chang, The Complete Fiction of Lu Xun, and Serve the People by Yan Lianke. She is a lecturer in modern Chinese history and literature at the University of London and writes for the Guardian, The Times, the Economist, and the Times Literary Supplement. She spends a large part of the year in China with her family.
Yiyun Li grew up in Beijing and attended Peking University. She came to the United States in 1996 to study medicine and started writing two years later. After receiving a master's degree in immunology from the University of Iowa, she attended the Iowa Writers' Workshop, where she received an MFA. Li is a recipient of The Paris Review's Plimpton Prize for new writers. Her stories have been published in "The New Yorker," "The Paris Review," "Glimmer Train," and "Prospect," She lives in Oakland, California with her husband and their two sons.
"From the Hardcover edition."
Praise For The Real Story of Ah-Q and Other Tales of China…
"Lu Xun is not just a great writer. He is an essential writer-the kind whose works provide the clues an outsider needs to unlock the cultural code of a nation, and whose work becomes embedded in a nation's DNA. . . . This affordable volume comprises . . . his complete fiction. Julia Lovell's are arguably the most accessible translations yet. . . . Together, they give Lu Xun his best shot to date of achieving renown beyond the Chinese world. If it succeeds in this, the book could be considered the most significant Penguin Classic ever published."
-Time

"Julia Lovell and Penguin have done Chinese modern literature a great service in bringing this passionate, witty and bleakly nostalgic work to what one hopes will be a wider audience. Lovell's introduction is excellent."
-The Times Literary Supplement