The Snowy Day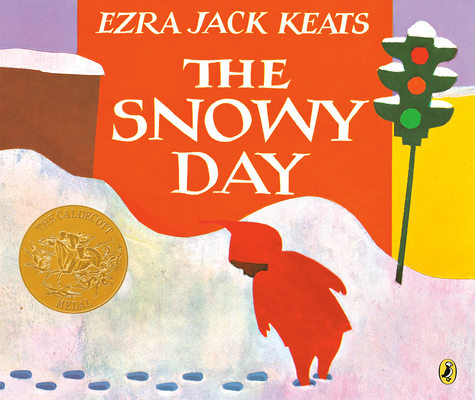 The Snowy Day
Puffin Books, Paperback, 9780140501827, 32pp.
Publication Date: October 28, 1976
* Individual store prices may vary.
Buy at Local Store
Enter your zip code below to purchase from an indie close to you.
or
Buy Here
Description
Winner of the 1963 Caldecott Medal
No book has captured the magic and sense of possibility of the first snowfall better than The Snowy Day. Universal in its appeal, the story has become a favorite of millions, as it reveals a child's wonder at a new world, and the hope of capturing and keeping that wonder forever.
The adventures of a little boy in the city on a very snowy day.
"Keats's sparse collage illustrations capture the wonder and beauty a snowy day can bring to a small child." "Barnes & Noble"
"Ezra Jack Keats's classic "The Snowy Day," winner of the 1963 Caldecott Medal, pays homage to the wonder and pure pleasure a child experiences when the world is blanketed in snow." "Publisher's Weekly"
"The book is notable not only for its lovely artwork and tone, but also for its importance as a trailblazer. According to"Horn Book"magazine, "The Snowy Day"was "the very first full-color picture book to feature a small black hero" yet another reason to add this classic to your shelves. It's as unique and special as a snowflake." Amazon.com
About the Author
Ne en 1916 dans une famille juive polonaise installee a New York, Ezra Jack Keats revele tres tot de reels talents artistiques. Il grandit sous le nom de Jacob - Jack - Ezra Katz et ne prit le pseudonyme de Keats qu apres la Seconde Guerre mondiale, en reaction a l antisemitisme ambiant. Cette experience personnelle de la discrimination ancra en lui une profonde sympathie pour tous ceux qui souffraient de l intolerance, quelle qu elle soit. Il fut ainsi le premier auteur americain a offrir dans ses histoires une place centrale aux enfants noirs. Dans ses livres, Keats aime utiliser des techniques artistiques inedites, afin de donner a ses personnages une touche unique. Dans Un garcon sachant siffler, il a ainsi mele crayonnes, jeux de matieres, gouache et collages pour faire vivre l univers de Sam. Puisant dans ses propres souvenirs, les histoires de Keats s inspirent de la vie de famille, des plaisirs simples et des petits problemes quotidiens rencontres par les enfants. C est probablement ce melange de simplicite et de sincerite qui ont rendu les livres et les personnages de Keats si populaires.
A sa mort en 1983, Keats etait l illustrateur de plus de 85 livres pour enfants, et l auteur-illustrateur de 24 ouvrages desormais classiques.
Wednesday, Feb 10, 2010
Buried under the drifts in Washington, D.C., we turn to artful descriptions of snow from some favorite writers — in the hands of a good storyteller, snow can be magical, or monstrous. We sample works from Ezra Jack Keats, Laura Ingalls Wilder and, of course, Robert Frost. More at NPR.org