The Gates of the Alamo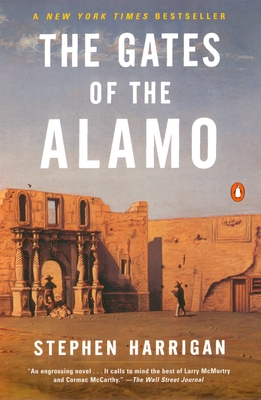 The Gates of the Alamo
Penguin Books, Paperback, 9780141000022, 592pp.
Publication Date: March 2001
* Individual store prices may vary.
Shop Local
Enter your zip code below to find indies closest to you.
Description
A huge, riveting, deeply imagined novel about the siege and fall of the Alamo in 1836--an event that formed the consciousness of Texas and that resonates through American history--The Gates of the Alamo follows the lives of three people whose fates become bound to the now-fabled Texas fort: Edmund McGowan, a proud and gifted naturalist whose life's work is threatened by the war against Mexico; the resourceful, widowed innkeeper Mary Mott; and her sixteen-year-old son, Terrell, whose first shattering experience with love leads him instead to war, and into the crucible of the Alamo. The story unfolds with vivid immediacy and describes the pivotal battle from the perspective of the Mexican attackers as well as the American defenders. Filled with dramatic scenes, and abounding in fictional and historical personalities--among them James Bowie, David Crockett, William Travis, and General Santa Anna--The Gates of the Alamo enfolds us in history and, through its remarkable and passionate storytelling, allows us to participate at last in an American legend.
About the Author
Stephen Harrigan is a former senior editor of Texas Monthly magazine who now writes full-time from his home in Austin, Texas.
Praise For The Gates of the Alamo…
"The historical novel at its best...With it, Harrigan [has] emerged as the leading Texan writer of his generation and an American writer of the first rank." --San Francisco Chronicle

"The first great novel of the 21st century....This is storytelling at its finest." --Fort Worth Star-Telegram

"A time and a place, a vanished world in which gallant death and honor still held tangible appeal, while merciless slaughter was more likely the rule, are evoked with great skill." --The New York Times Book Review

"A picturesque historical saga comparable to Lonesome Dove and The Killer Angels...a new masterpiece in the literature of fact." --Christian Science Monitor