Modern Classics Coming Up for Air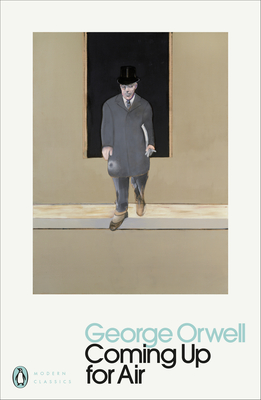 Modern Classics Coming Up for Air
Penguin Classic, Paperback, 9780141185699, 256pp.
Publication Date: February 6, 2001
* Individual store prices may vary.
Buy at Local Store
Enter your zip code below to purchase from an indie close to you.
or
Not Currently Available for Direct Purchase
Description
George Orwell's paean to the end of an idyllic era in British history, Coming Up for Air is a poignant account of one man's attempt to recapture childhood innocence as war looms on the horizon from the author of Nineteen Eighty-Four, published in Penguin Modern Classics. George Bowling, forty-five, mortgaged, married with children, is an insurance salesman with an expanding waistline, a new set of false teeth - and a desperate desire to escape his dreary life. He fears modern times - since, in 1939, the Second World War is imminent - foreseeing food queues, soldiers, secret police and tyranny. So he decides to escape to the world of his childhood, to the village he remembers as a rural haven of peace and tranquillity. But his return journey to Lower Binfield may bring only a more complete disillusionment ... If you enjoyed Coming up for Air, you might like Burmese Days, also available in Penguin Classics. 'His humour is ironic and fresher than ever. This is an Orwell not to miss' Observer 'Very funny, as well as invigoratingly realistic ... Nineteen Eighty-Four is here in embryo. So is Animal Farm ... not many novels carry the seeds of two classics as well as being richly readable themselves' John Carey, Sunday Times.
About the Author
Eric Arthur Blair (George Orwell) was born in 1903 in India, where his father worked for the Civil Service. The family moved to England in 1907 and in 1917 Orwell entered Eton, where he contributed regularly to the various college magazines. From 1922 to 1927 he served with the Indian Imperial Police in Burma, an experience that inspired his first novel, Burmese Days (1934). Several years of poverty followed. He lived in Paris for two years before returning to England, where he worked successively as a private tutor, schoolteacher and bookshop assistant, and contributed reviews and articles to a number of periodicals. Down and Out in Paris and London was published in 1933. In 1936 he was commissioned by Victor Gollancz to visit areas of mass unemployment in Lancashire and Yorkshire, and The Road to Wigan Pier (1937) is a powerful description of the poverty he saw there. At the end of 1936 Orwell went to Spain to fight for the Republicans and was wounded. Homage to Catalonia is his account of the civil war. He was admitted to a sanatorium in 1938 and from then on was never fully fit. He spent six months in Morocco and there wrote Coming Up for Air. During the Second World War he served in the Home Guard and worked for the BBC Eastern Service from 1941 to 1943. As literary editor of the Tribune he contributed a regular page of political and literary commentary, and he also wrote for the Observer and later for the Manchester Evening News. His unique political allegory, Animal Farm was published in 1945, and it was this novel, together with Nineteen Eighty-Four (1949), which brought him world-wide fame. George Orwell died in London in January 1950.