Alice's Adventures in Wonderland and Through the Looking Glass and What Alice Found There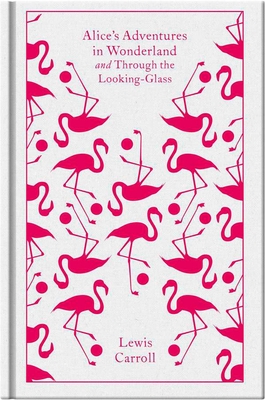 Alice's Adventures in Wonderland and Through the Looking Glass and What Alice Found There
Penguin Books, Hardcover, 9780141192468, 356pp.
Publication Date: March 10, 2010
* Individual store prices may vary.
Buy Now
or
Shop Local
Enter your zip code below to purchase from an indie close to you.
Description
Part of Penguin's beautiful hardback Clothbound Classics series, designed by the award-winning Coralie Bickford-Smith, these delectable and collectible editions are bound in high-quality colourful, tactile cloth with foil stamped into the design. 'I had sent my heroine straight down a rabbit-hole without the least idea what was to happen afterwards, ' wrote Dodgson, describing how Alice was conjured up one 'golden afternoon' in 1862 to entertain his child-friend Alice Liddell. In the magical world of Wonderland and the back-to-front Looking-Glass kingdom, order is turned upside-down: a baby turns into a pig; time is abandoned at a tea-party; and a chaotic game of chess makes a 7-year-old a Queen.
About the Author
Lewis Carroll was the pen name of Charles Lutwidge Dodgson, an English writer, mathematician, Anglican deacon, and photographer. Best known for his classics Alice s Adventures in Wonderland, Through the Looking Glass, and Jabberwocky, Carroll was also an accomplished inventor who created an early version of what is today known as Scrabble. The publication of Alice s Adventures in Wonderland in 1865 brought Carroll a certain level of fame, although he continued to supplement his income through his work as a mathematics tutor at Christ Church, Oxford College. Carroll s whimsical characters and nonsensical verse resonated with Victorian-era readers, and his books continue to be enjoyed by numerous modern societies dedicated to his promoting his works.

Hugh Haughton was born in Cork, and is currently Senior Lecturer in English at the University of York. He has published widely on modern poetry and has edited many books, including The Chatto Book of Nonsense Poetry (1988), Second World War Poems (2004), and Freud's The Uncanny.
He is co-editor (with Valerie Eliot) of The Letters of T. S. Eliot.