The Sonnets and a Lover's Complaint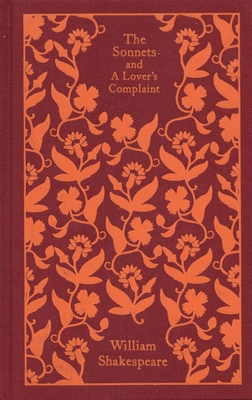 The Sonnets and a Lover's Complaint
Penguin Books, Hardcover, 9780141192574, 175pp.
Publication Date: September 28, 2010
* Individual store prices may vary.
Buy Now
or
Shop Local
Enter your zip code below to purchase from an indie close to you.
Description
Part of Penguin's beautiful hardback Clothbound Classics series, designed by the award-winning Coralie Bickford-Smith, these delectable and collectible editions are bound in high-quality colourful, tactile cloth with foil stamped into the design. When this volume of Shakespeare's poems first appeared in 1609, he had already written most of the great plays that made him famous. The 154 sonnets - all but two of which are addressed to a beautiful young man or a treacherous 'dark lady' - contain some of the most exquisite and haunting poetry ever written, and deal with eternal subjects such as love and infidelity, memory and mortality, and the destruction wreaked by Time. Also included is A Lover's Complaint, originally published with the sonnets, in which a young woman is overheard lamenting her betrayal by a heartless seducer.
About the Author
Arguably the greatest English-language playwright, William Shakespeare was a seventeenth-century writer and dramatist, and is known as the Bard of Avon. Under the patronage of Queen Elizabeth I, he penned more than 30 plays, 154 sonnets, and numerous narrative poems and short verses. Equally accomplished in histories, tragedies, comedy, and romance, Shakespeare s most famous works include Romeo and Juliet, Hamlet, Macbeth, King Lear, The Taming of the Shrew, and As You Like It.
Like many of his contemporaries, including Christopher Marlowe, Shakespeare began his career on the stage, eventually rising to become part-owner of Lord Chamberlain s Men, a popular dramatic company of his day, and of the storied Globe Theatre in London.
Extremely popular in his lifetime, Shakespeare s works continue to resonate more than three hundred years after his death. His plays are performed more often than any other playwright s, have been translated into every major language in the world, and are studied widely by scholars and students.
John Kerrigan was born and brought up in Liverpool, educated at Oxford, and now teaches at Cambridge. He has published extensively on early modern literature, especially Shakespeare, on Romantic poetry, and on contemporary writing. His edition of Shakespeare's Sonnets and A Lover's Complaint
(1986, often reprinted) was widely acclaimed, and his study of Revenge Tragedy: Aeschylus to Armageddon (1996) won the Truman Capote Award for Literary Criticism. In addition to editions and monographs, he has written numerous articles for the (London) Times Literary Supplement and the London Review
of Books, and poetry reviews for "little" magazines. Internationally prominent, he has lectured throughout Britain, Ireland, Europe and North America.